Print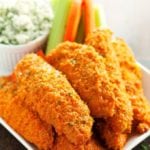 Healthy Oven-Baked Buffalo Chicken Tenders
Delicious, crispy, juicy, buffalo chicken tenders! These little guys are full of flavor, but only contain a fraction of the fat of fried chicken tenders. They really aren't fried, pinky swear. You won't believe it either :-)
Optional
blue cheese

ranch

celery sticks

carrot sticks
Preheat oven to 425 degrees. Place a wire rack inside a baking sheet. Spray rack with cooking spray.

Melt butter in a skillet over low heat. Add breadcrumbs and slowly stir until golden brown, about 5-10 minutes. Stir in paprika, garlic, salt and pepper. Set aside.

Set up breading station by putting three shallow bowls on counter. Fill first bowl with flour, second bowl with egg and milk, and third bowl with breadcrumbs.

Cut chicken in to tender-sized pieces. Dunk chicken in flour bowl, shake off excess, then dunk into egg mixture bowl. Roll chicken in breadcrumbs until coated thoroughly. Press breadcrumbs into chicken and place on a wire wrack.

Once all chicken pieces are breaded, spray chicken with cooking spray. Bake until chicken is fully cooked (internal temperature of 165 degrees), about 15 minutes. Let rest for 5 minutes.

Place tenders in a large mixing bowl. Pour buffalo sauce over tenders and stir gently to coat.

Serve straight up or with blue cheese, ranch, celery and carrots!