Baked Eggnog Mini Muffin Donuts with Rum Glaze
December 16, 2014
2 Comments
Baked mini muffin donuts packed with eggnog and covered in rum glaze  – can I really say more?! I love eggnog, I love spiced rum, and I love these adorable little mini muffin donuts! They're decadent, they're fluffy, they taste like Christmas 🙂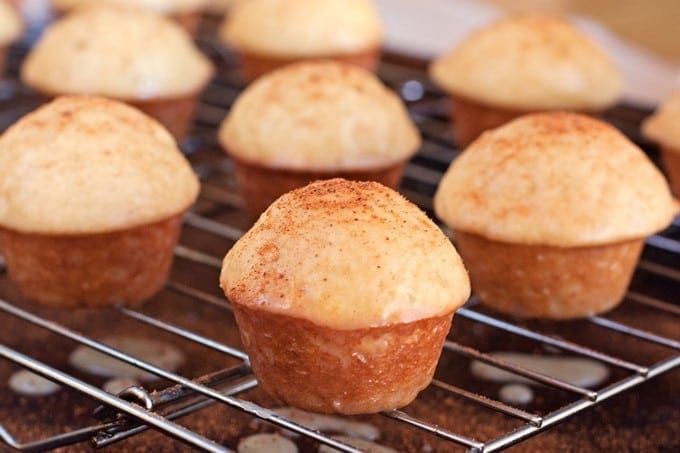 The batter is very straightforward. Combine the dry ingredients in a large bowl. In a separate medium bowl, combine the wet ingredients. Pour the wet ingredients into the large bowl with the dry ingredients. Stir gently. Be careful that you don't over stir the batter, or the muffins will be tough. You want to stir just enough so that all the little pockets of flour are mixed in.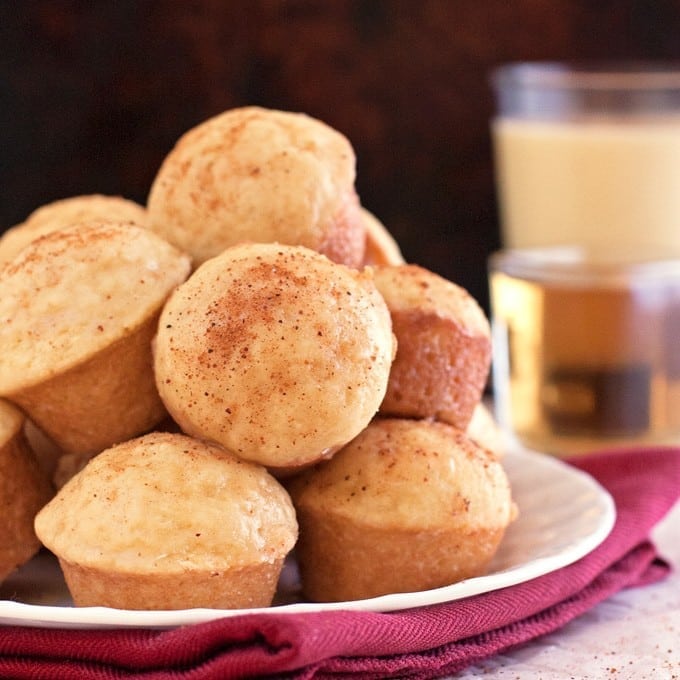 Spoon the batter into the mini muffin tin. If you're careful and only fill the cups about ½ to ¾ full they'll totally look rounder and resemble donut holes (aka munchkins!). Mine came out looking a little more like muffins than munchkins, but they tasted just as delicious!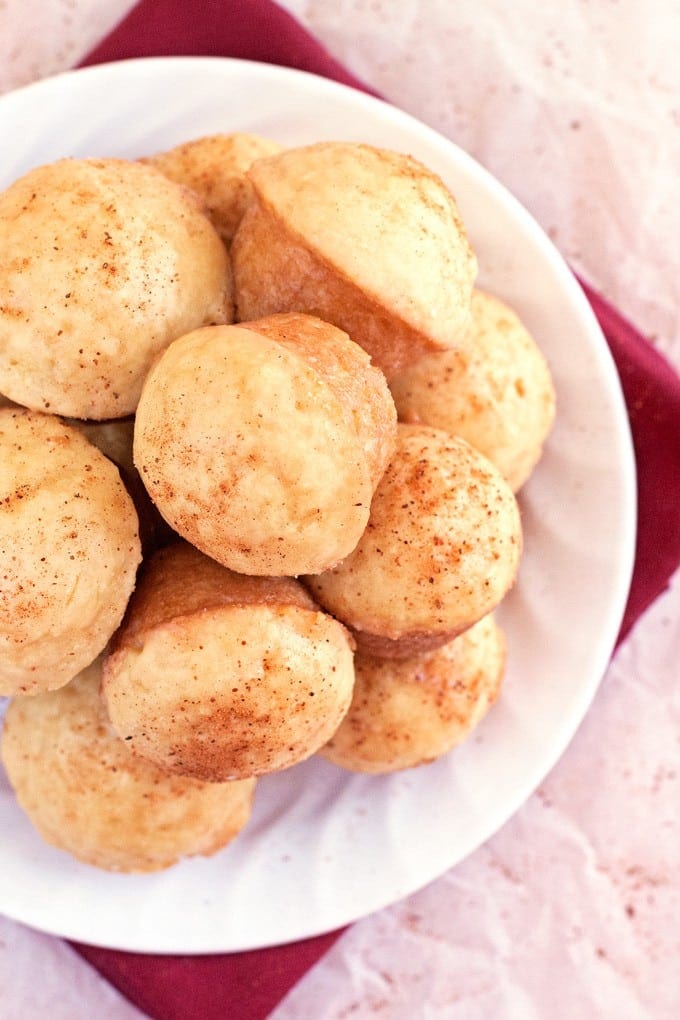 Plus these little guys are baked, and not fried. So you can totally eat more of them (while drinking eggnog of course 🙂 ). If you don't have a mini muffin tin, you can also make them into delicious full sized muffins, perfect for breakfast (or dessert, or snack). Just adjust the baking time accordingly.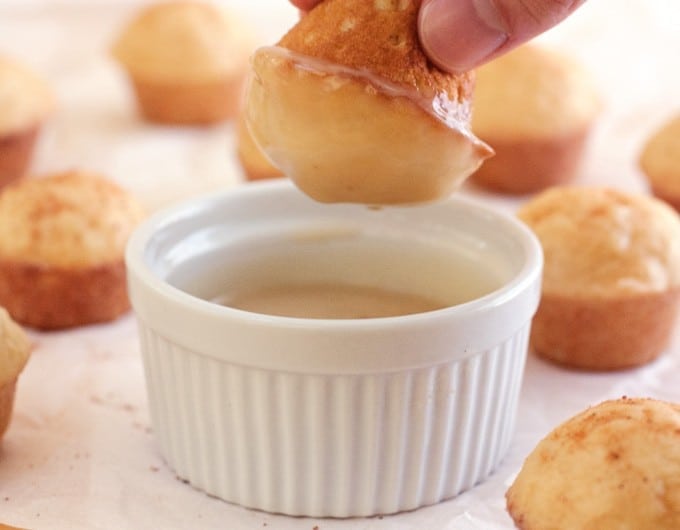 I decided to glaze the entire mini muffin (like a donut would be). The recipe makes just enough glaze to cover all the muffins once. If you double the glaze, you could also coat them again after the first coat of glaze hardens. Between each dunk, place the munchkin on a wire rack to let the glaze harden. I place my wire rack on a cookie sheet to catch the drips. You can also glaze just the tops (more like muffins usually are), in which case you'll only need about ½ the glaze.
For a little Christmas-y touch, garnish the munchkins with a sprinkle of cinnamon and nutmeg, just like a glass of eggnog!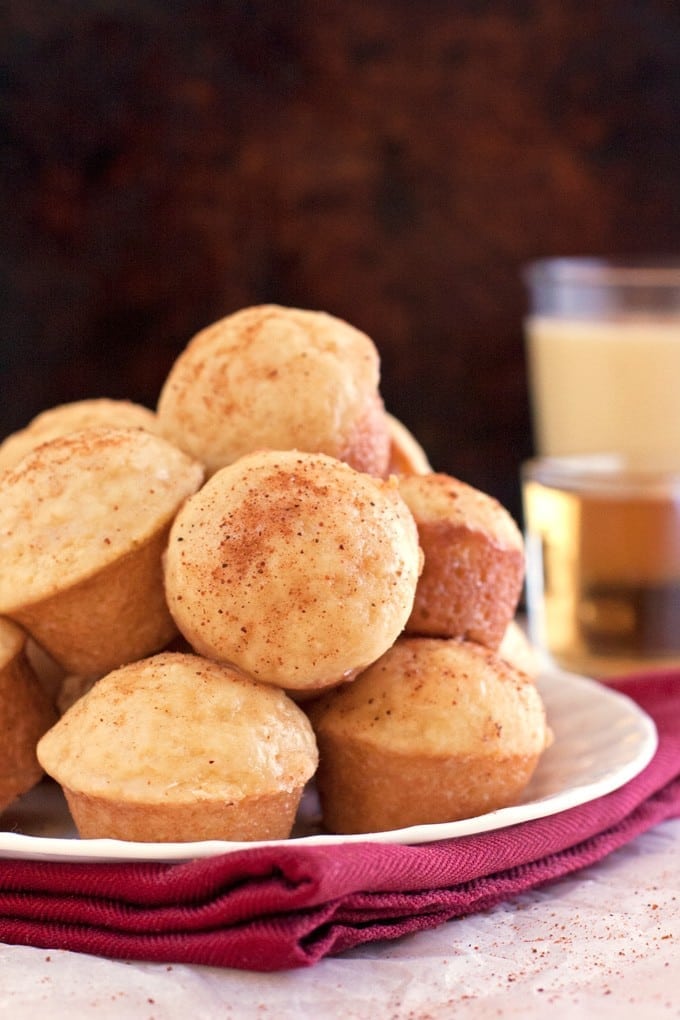 ---
Baked Eggnog Mini Muffin Donuts with Rum Glaze
Baked mini muffin donuts packed with eggnog and covered with rum glaze. Perfect for Christmas.
Ingredients
Mini muffin donuts
¼

cup

greek yogurt

(unsweetened is best)

2

teaspoons

vanilla extract

3

tablespoons

butter

melted

cinnamon and nutmeg for garnish
Glaze
2

cups

sifted powdered sugar

measured before sifting
Instructions
Preheat oven to 350 degrees F. Grease mini muffin tin.

In a large bowl combine flour, sugar, baking powder, baking soda, and salt. Set aside.

In a medium bowl, beat eggs. Whisk in eggnog, yogurt, and vanilla until smooth. Then whisk in melted butter. Pour this mixture into the large bowl with the dry ingredients, and gently stir until just combined.

Spoon batter into mini muffin tins until they are about ½-¾ full. Bake until toothpick comes out clean, about 10 minutes.

While mini muffins are baking make the glaze. Sift two cups of powdered sugar. Combine all glaze ingredients and mix until smooth. If necessary, adjust the amount of powdered sugar or liquid to reach desired consistency.

Allow muffins to cool in pan for 5 minutes. Pop muffins out of pan and let cool slightly on wire rack. It will be best to glaze the muffins while they are still warm.

Dunk mini muffins in the glaze. Between each dunk, place them on a wire rack to let glaze harden. Sprinkle with cinnamon and nutmeg.
---
---
---