Chicken Cacciatore
December 8, 2013
No Comments
I LOVE Billy Joel!  I know all the words to The Entertainer, Only the Good Die Young, For the Longest Time and pretty much every Billy Joel song. Even We Didn't Start the Fire. And that's a lot of words. And I sing them with gusto. Especially in the car.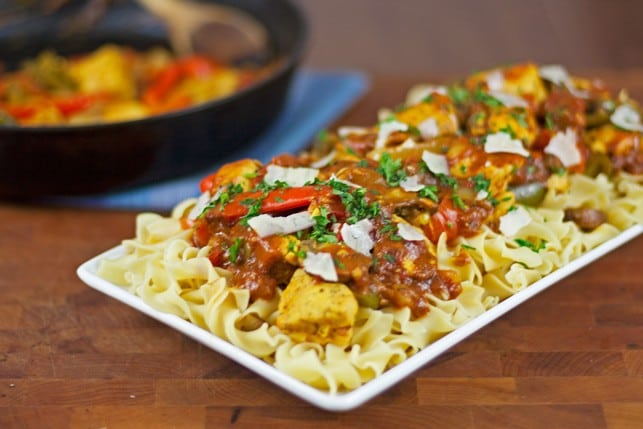 Our wedding reception even ended at "9 o'clock on a Saturday," so we just had to make our final song the Piano Man 😉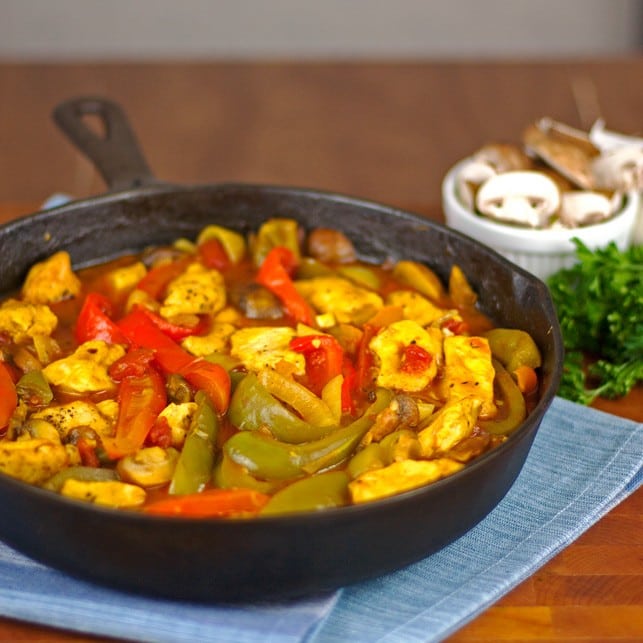 I made this delicious chicken cacciatore last week and Chris and I kept singing "He works at Mister Cacciatore's down on Sullivan Street." You know – Movin' Out (Anthony's Song)!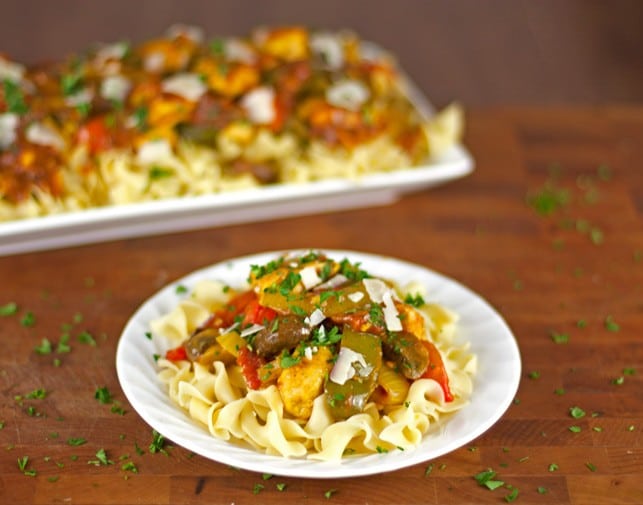 This chicken cacciatore is overflowing with fresh ingredients! The flavors and textures of the tomatoes, pepper, and onions are just fantastic together, and they are so colorful too!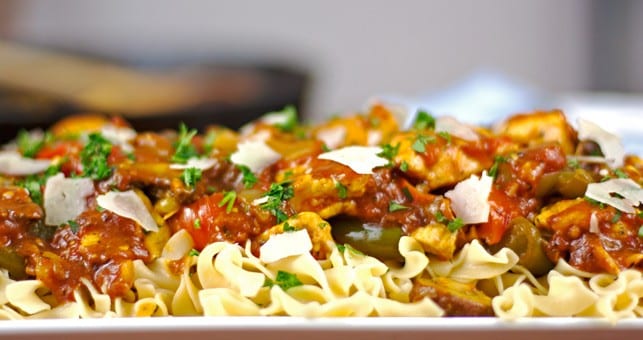 Flouring, searing, and braising the chicken kept it super moist and yummy.  I used boneless chicken breasts, but you could really use any type of chicken.  The recipe that inspired this dish (pioneer woman) used chicken thighs. I love that crispy golden skin.  If you use any chicken with skin just make sure not to submerge the skin on the pieces as you let it simmer to keep the skin from getting soggy!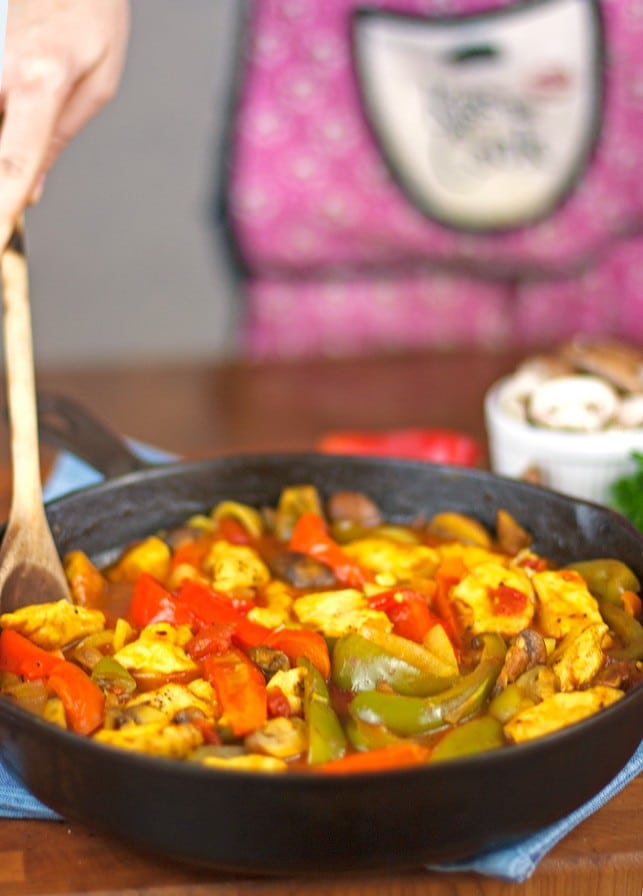 Chicken cacciatore is inlaw-friendly and easy to make — the perfect kind of meal to have ready for the holidays :-). The cast iron skillet I used  this time adds a deep flavor to the chicken and gives the entire dish a nice, rustic look.  But when I decided to make a triple batch and freeze it for later I needed to get more creative. I definitely don't have a cast iron skillet that big!  I could have used a large cast iron pot, but I haven't gotten around to splurging on a beautiful Le Creuset. My trusty crockpot saved the day!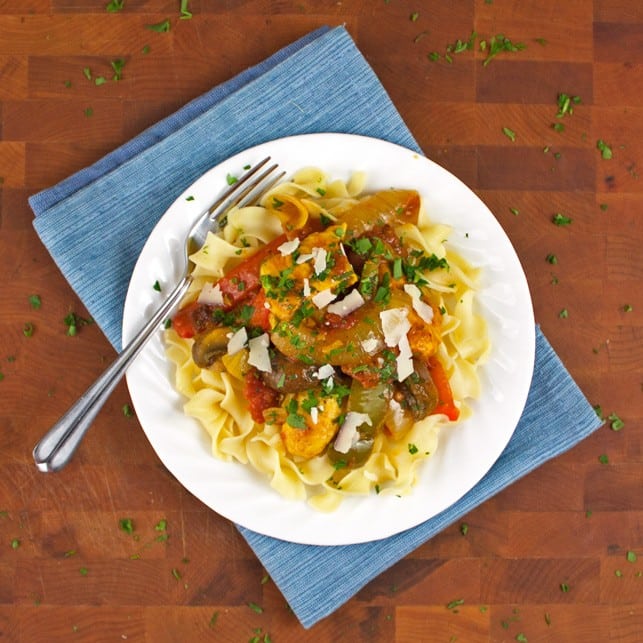 To make this dish using a crockpot I braised the chicken in batches, and then combined all the ingredients in the crockpot and cooked it on high until the chicken was fully done, about 3-4 hours for small chicken pieces. The results were almost as delicious as the cast iron skillet method, and waaaay simple!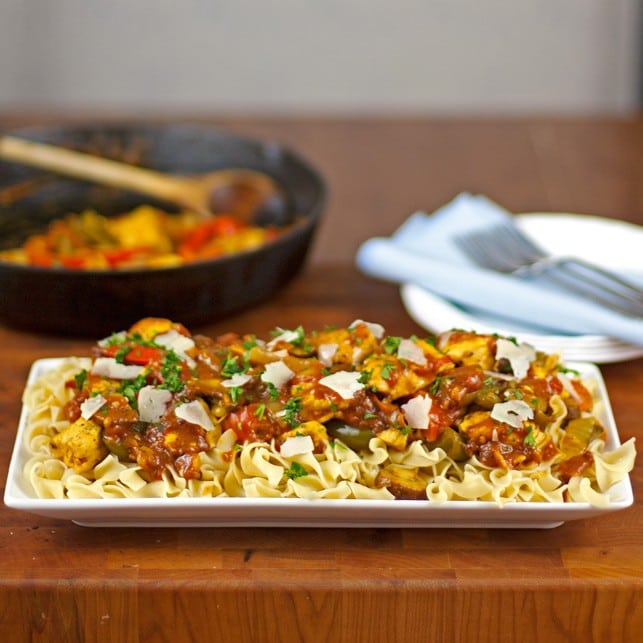 ---
This chicken cacciatore recipe is overflowing with the fresh flavors and textures of the tomatoes, pepper, and onions!
Ingredients
1

lb

boneless chicken breasts

cut into large bite sized pieces.

1

green bell pepper

sliced

8

ounces

mushrooms

chopped

1 14

ounce

can of diced tomatoes

½

teaspoon

ground turmeric

dash of red pepper flakes

garnish: parsley and shredded parmesan cheese
Instructions
Melt butter and oil in a cast iron skillet on medium-high. Salt and pepper both sides of chicken pieces. Coat each piece in flour, shaking off any excess. Brown each side of chicken in skillet, about 1 minute per side. Move to clean plate and set aside. I braised one pound of chicken pieces in two batches.

Drain off grease in pan so that only a thin coating along the bottom remains. Add peppers, onions, and garlic and stir for about 2 minutes. Add mushrooms and stir for another 2 minutes. Add turmeric, thyme, red pepper, and salt and stir for 2 minutes. Stir in wine and tomatoes with juice. Add chicken and bring to a simmer. Cover with aluminum foil and simmer until chicken is fully cooked, about 45-60 minutes. Uncover chicken and cook for an addition 15 minutes.

When chicken is fully cooked remove chicken and veggies from sauce with a slotted spoon. Reduce remaining sauce on stove until desired thickness, about 10 minutes.

While sauce is reducing boil a large pot of salted water. Cook egg noodles until tender, about 5 minutes. Drain, run under cold water, toss with a little olive oil, and arrange on serving platter.

Cover pasta with chicken and vegetables. Drizzle desired amount of sauce over chicken. Sprinkle with salt, pepper, parsley and parmesan cheese. Enjoy!
---
---
---