Farmer's Market Strawberry Shortcake with Fresh Whipped Cream
May 30, 2015
4 Comments
Last weekend was glorious! It was a three-day weekend. My office closed early on Friday. We had glorious weather in DC. And best of all – it was the first weekend for strawberries!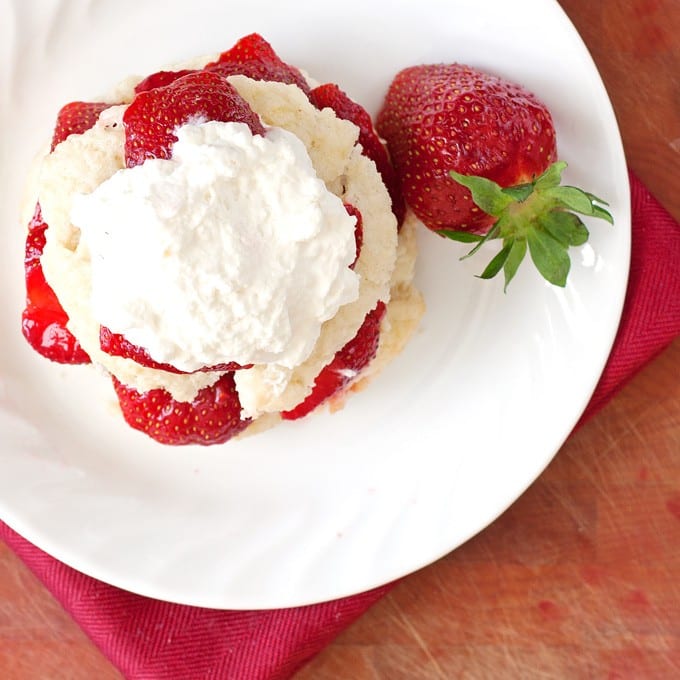 We started the weekend by exploring a number of Memorial Day events around DC. It's our first year here and I can now attest that DC definitely knows how to commemorate the day – parades, services, concerts, even rolling thunder through the streets. After the festivities, we headed over to the farmer's market and scored four delicious pints of strawberries. I didn't know they were in season already here. In Connecticut and New York you can't find them until late June. It was a glorious and delicious surprise!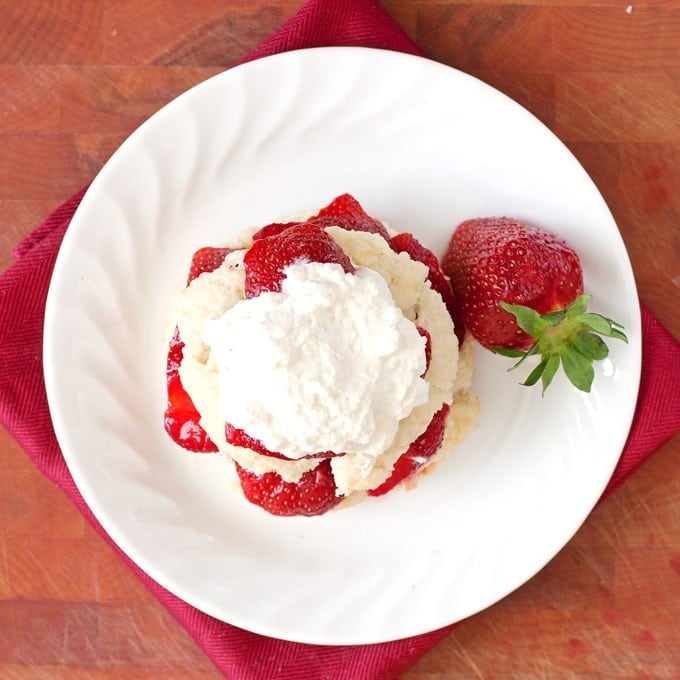 While I was reveling in the first strawberries of the season I started thinking – what could be better than eating fresh strawberries? Then it came to me – eating these strawberries while making strawberry shortcake! This recipe was born! Buttery, flaky shortcake biscuits, covered with fresh slightly sweetened strawberries, and topped with homemade whipped cream – life doesn't get much better 🙂
How did you enjoy your Memorial Day weekend? Did you attend any parades or memorials? Did you spend time grilling burgers with friends? Or eating strawberries by the handful?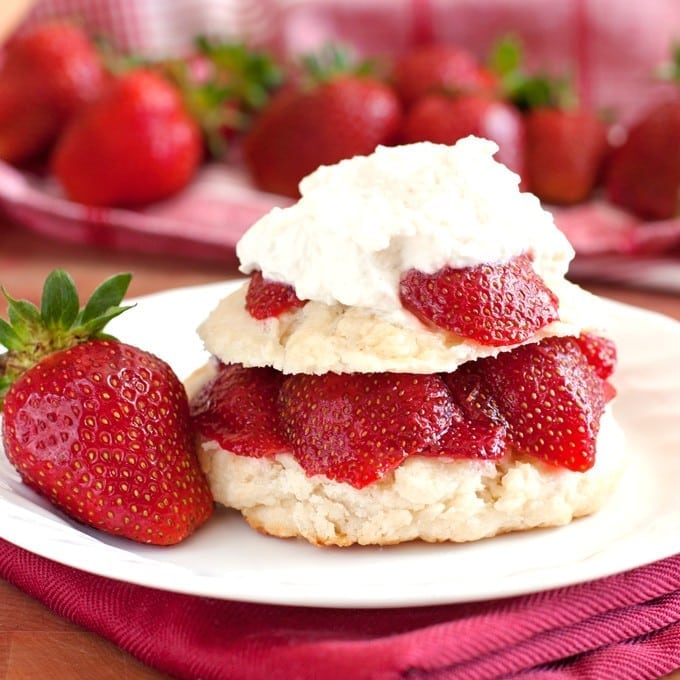 ---
Farmer's Market Strawberry Shortcake with Fresh Whipped Cream
Celebrate strawberry season! Buttery, flaky shortcake biscuits, slightly sweetened strawberries, and homemade whipped cream – life doesn't get much better.
Ingredients
Strawberry Topping
1

pound

of strawberries

with stems removed and sliced

2-4

tablespoons

sugar

to taste

the zest and juice of one lemon
Shortcakes
1

tablespoon

baking powder
Whipped Cream
1

tablespoon

vanilla extract
Instructions
Prepare strawberry topping: Stir together all ingredients for topping, cover, and let sit in fridge for at least 1 hour.

Prepare shortcakes: Cut butter into ¼" cubes, wrap in plastic wrap and freeze for 20 minutes.

Preheat oven to 350 degrees F.

In a large bowl whisk together flour, baking powder, sugar and salt. Sprinkle flour mixture with frozen butter cubes. Cut butter into flour using a pastry cutter or two knives until mixture is crumbly. Whisk together yogurt, milk, and vanilla. Add yogurt-milk mixture to the flour-butter mixture. Stir until dough just starts to form, about 1 minute.

Transfer dough to a clean countertop and kneed until sticky dough forms, about 2 minutes. Divide dough into 6 even pieces. Roll each into a ball, flattening slightly into a thick patty, about 1 inch thick.

Arrange in a single layer on a cookie sheet and bake until tops are golden brown, about 20 minutes.

Prepare whipped cream: Make sure the heavy cream and the bowl you'll be whipping it in are very cold. Pour cream in bowl and using an electric mixer with a whisk attachment, whip cream on medium until soft peaks form, about 3 minutes. Add vanilla and sugar and continue to whip on medium until it looks like whipped cream, another 1-2 minute.

Once the shortcakes have cooled slightly, cut in half like a sandwich roll. Cover bottom half of shortcake with your delicious strawberry mixture, replace the top half, and top with whipped cream.
---
---
---