Roasted Carrot Cashew Soup
December 1, 2013
2 Comments
Happy right after Thanksgiving!  I hope you had a great time giving thanks with (and for!) family and friends 🙂
I've been in heaven the past few days eating delicious leftovers – stuffing, turkey, more stuffing, gravy, even more stuffing…did I mention the stuffing?  Mmmmmmm!!!!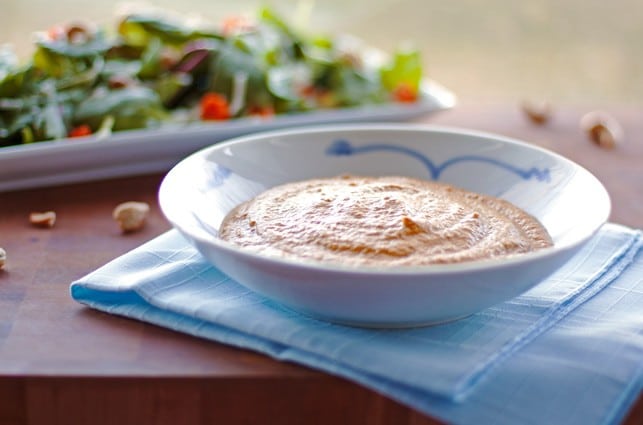 To go along with the leftovers I made a yummy roasted carrot cashew soup. It's a warm, hearty, and healthy combination, perfect for this post thanksgiving week.  It's delicious with warm bread, crunchy crackers, or a turkey sandwich 🙂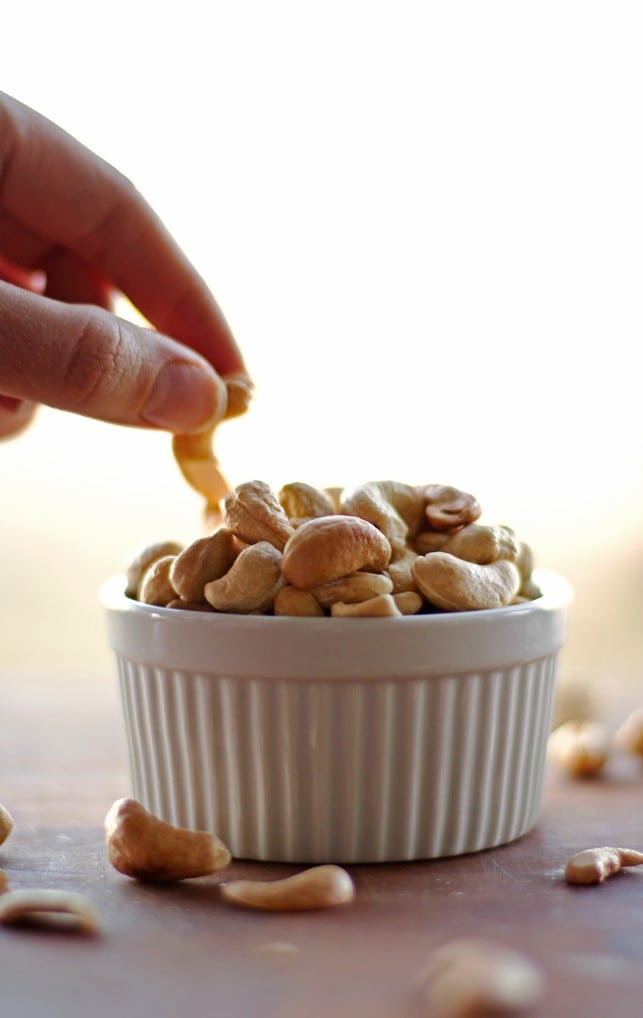 Roasting the carrots, onions, and garlic in a hot oven caramelizes the sugars in the veggies, bringing out their natural sweetness and deep flavors.  It gives the soup a rich, slightly sweet taste that is "souper"-yummy!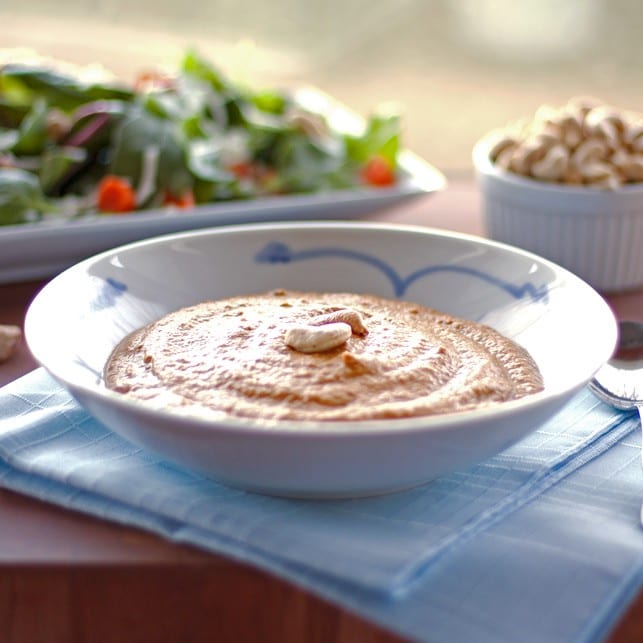 The recipe called for dried rubbed sage, but I only had fresh sage and I really didn't want to buy yet-another-spice.  Hmmmm. I hit the internet, determined to find out:
1. what exactly is dried rubbed sage ? and
2. could I make it from fresh sage?
The first few hits I found were discouraging, because I don't have a food dehydrator and baking the sage on low heat for most of the day was definitely not going to happen. Pushing that discouraging feeling aside I added "quick" to my search and through the magic of Google, I was making my own dried rubbed sage in less than 2 minutes! All it takes is a quick zap in the microwave – check out the recipe below for instructions.
Home toasted cashews give the soup its nutty taste and smooth, rich'n'creamy, texture.  I munched on so many of these yummy little nuts I decided to make a second batch with plenty of extra to sprinkle on a side salad.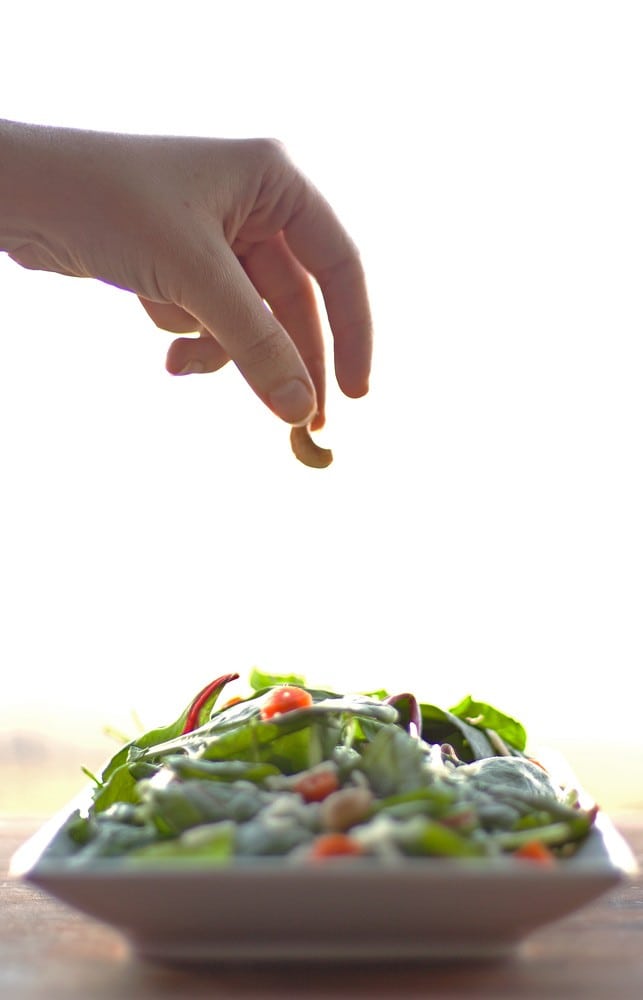 Now that the Thanksgiving celebration is over put your feet up, make another leftover turkey sandwich, and dig in to this yummy roasted carrot cashew soup!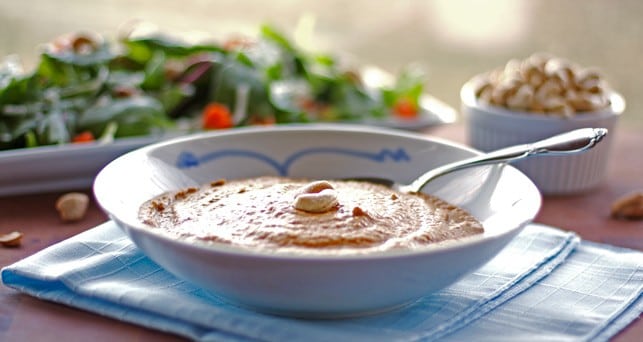 ---
Roasted Carrot Cashew Soup
Rich, Creamy, Roasted Carrot Cashew Soup - great with warm bread or a thanksgiving leftovers turkey sandwich!
Ingredients
1

quart

stock

vegetable or chicken

1 1/2

cups

raw

unsalted cashews

1

teaspoon

fresh thyme leaves or ½ teaspoon dried thyme
Instructions
Preheat oven to 400 degrees. Peel and cut carrots and onions into large pieces. Peel garlic cloves. Toss carrots, onions, and garlic with olive oil, salt, and pepper. Arrange in a single layer on a baking sheet or roasting pan. Roast in oven until veggies are soft and slightly blackened, about 45-55 minutes.

While veggies are roasting, arrange cashews in a single layer on a second baking sheet. Roast in oven until slightly toasted, about 5-8 minutes. Allow cashews to completely cool.

Optional: Make dried rubbed sage from fresh sage. Arrange 3 fresh sage leaves in a single layer on a microwave safe plate. Microwave until leaves are dried, about 1 minute 30 seconds, moving leaves around every 15-20 seconds. Place leaves in a metal colander and rub leaves against bottom of colander with fingers. The sage that falls through the colander is the dried rubbed sage! Store any extra in an airtight container.

Once veggies are done roasting, combine veggies and stock (except ¼ cup) in a large stock pot. Deglaze pan by pouring remaining ¼ cup stock into roasting pan and scraping all the yummy caramelized veggie pieces off of the bottom of the pan. Add to veggies and stock. Simmer until carrots are tender, about 15-20 minutes.

Once carrots are tender blend soup in batches in a blender (remembering not to fill blender more than half way) or with an immersion blender. In a food processor or good blender grind cashews with ½ cup of soup until it forms a smooth cashew butter. Add back to soup and blend more if necessary. Add thyme, rubbed sage, salt, and pepper to taste.
---
---
---