Grilled Sweet Corn on the Cob
September 14, 2014
20 Comments
When we arrived at our vacation lakehouse rental in New York's Finger Lakes region, our lovely host surprised us with fresh sweet corn from the neighboring farm.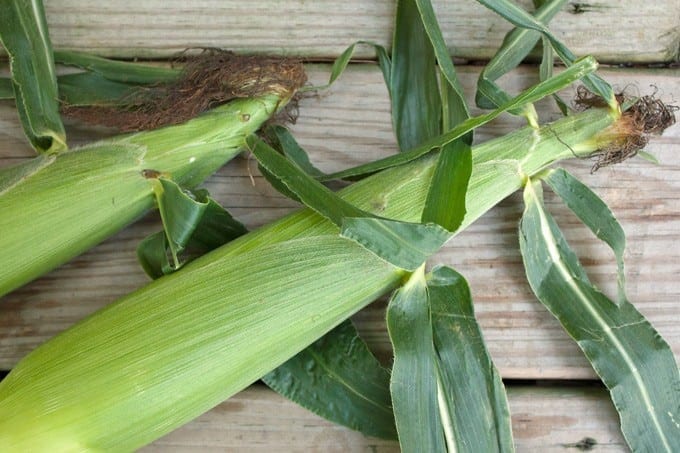 Having never grilled sweet corn before, I did what I usually do – Google it!
I am still astounded by how contentious this question it. Everyone seems to have their own method. Some soak the corn in water first, others don't. Out of soakers, some say 15 minutes is enough, others demand it must be overnight. And then, to remove or not to remove the husks? Keep them on and ensure moist kernels, or remove them and blacken the corn? If you keep the husks on, how thick should the husk layer be? Others say to remove everything, and rewrap the corn completely with aluminum foil, and then still others insist this is pretty much the same thing as not removing the husks at all. Oh my!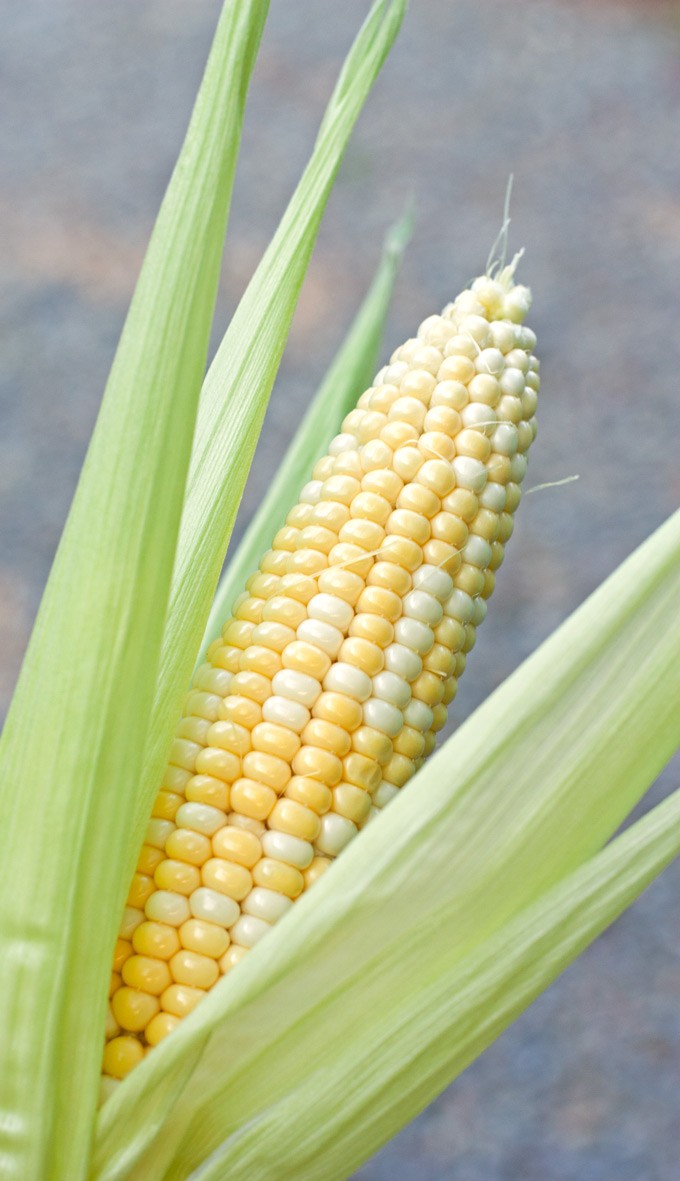 I tried to sort through all these passionate opinions, and I think it comes down to a balance between keeping the kernels moist (i.e. leaving the husks on) and blackening the kernels (i.e. exposing the kernels to the grill flames). Since Chris and I live in the land of no-grilling-allowed apartments, I wanted to get all the grill flavor I could by blackening the corn. So I decided to remove everything but a thin layer of husk.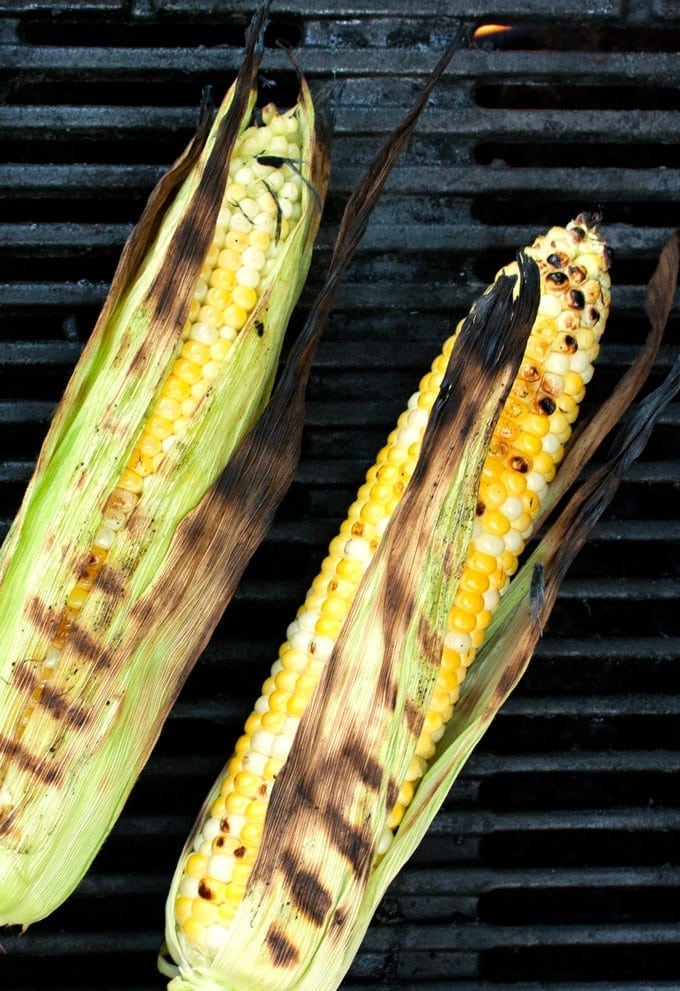 My result: the blackened kernels took on an almost nutty taste, while remaining plenty moist (although a generous layer of butter was involved) 🙂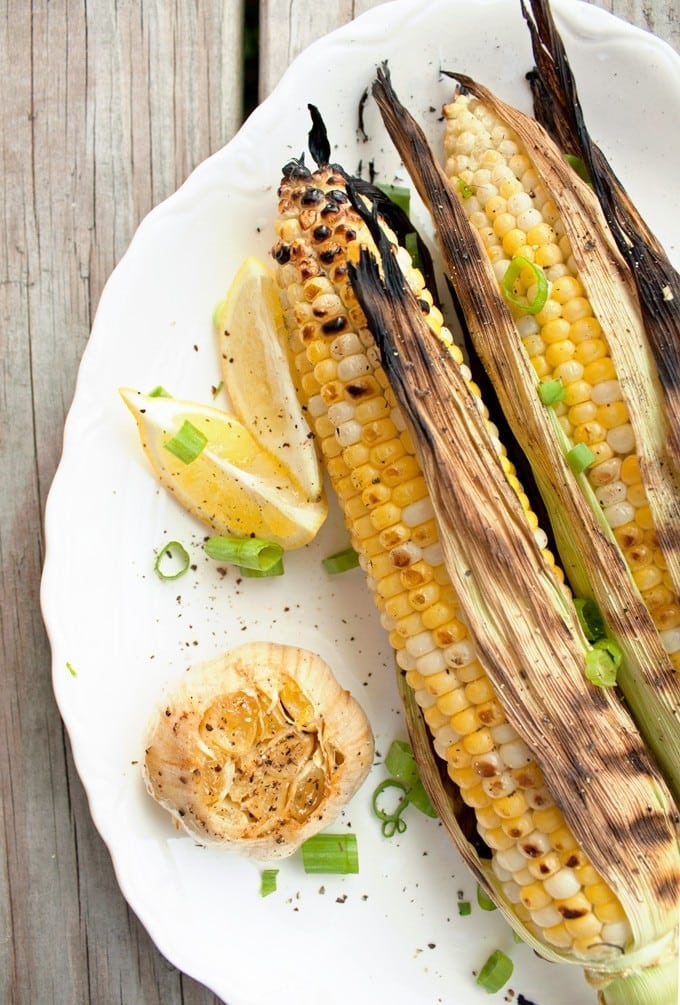 I served these with optional, but highly recommended, roasted garlic. After spreading butter all over the freshly grilled corn, squeeze the roasted garlic slightly to pop the cloves out of the bulb. Then the rub the garlic all over the corn too. The thick garlic paste will soak into all the little spaces between the corn….mmmmmm!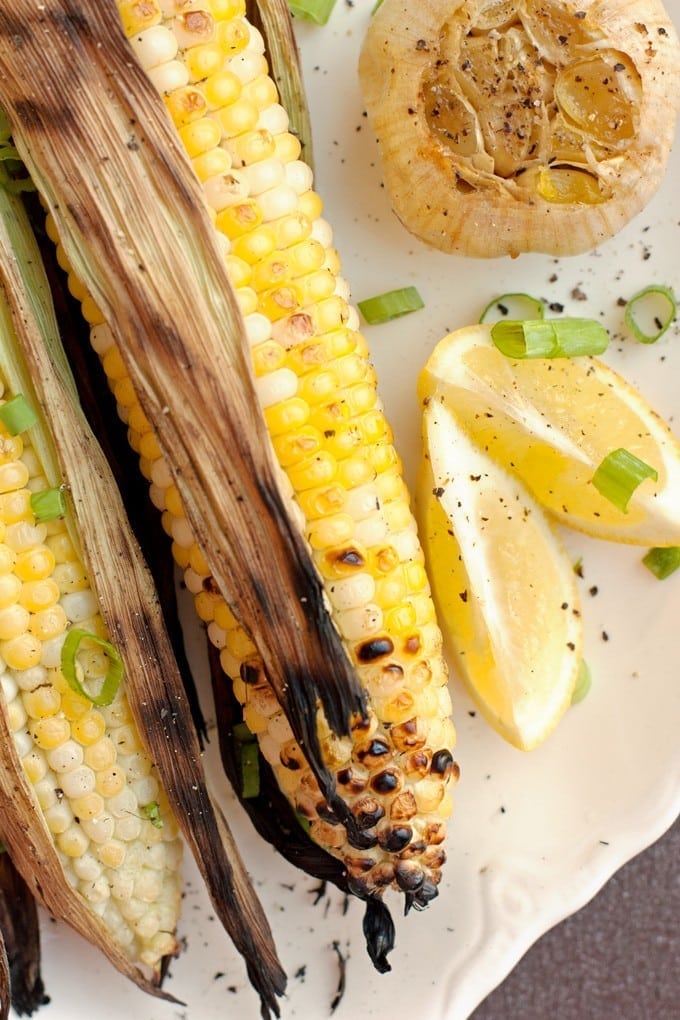 What do you think? What's your favorite way to grill corn? I'm always eager to test out new methods…and butter flavors 🙂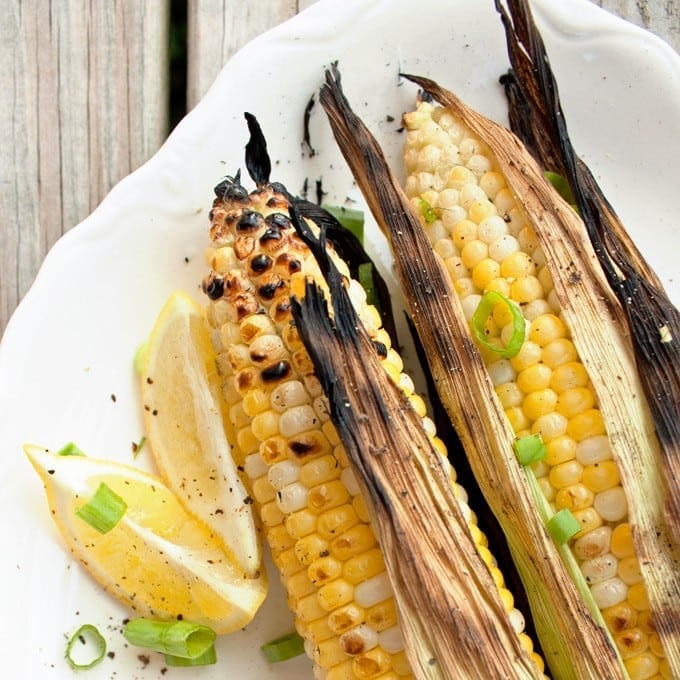 ---
Grilled Sweet Corn on the Cob
Moist, nutty grilled sweet corn on the cob topped with butter and roasted garlic
Instructions
Preheat oven to 400 degrees F. Chop top of garlic bulb off to expose the top of each garlic clove. Drizzle with olive oil, sprinkle with salt and pepper, and wrap in aluminum foil. Roast in oven until garlic cloves are soft, about 45 minutes. Unwrap and let cool.

Heat grill to medium heat. Pull back corn husks and remove silks. Replace husks around the corn, removing outer husks so only a single, non-continuous layer of husks remain.

Grill for 15-20 minutes, turning every 5 minutes, until corn is blackened. Coat corn with butter, garlic, salt, and pepper. Serve immediately.
---
---
---