Chocolate Crinkle Cookies
December 22, 2015
No Comments
Chocolate Crinkle Cookies – Rich fudgy chocolate cookies coated with a light dusting of powdered sugar.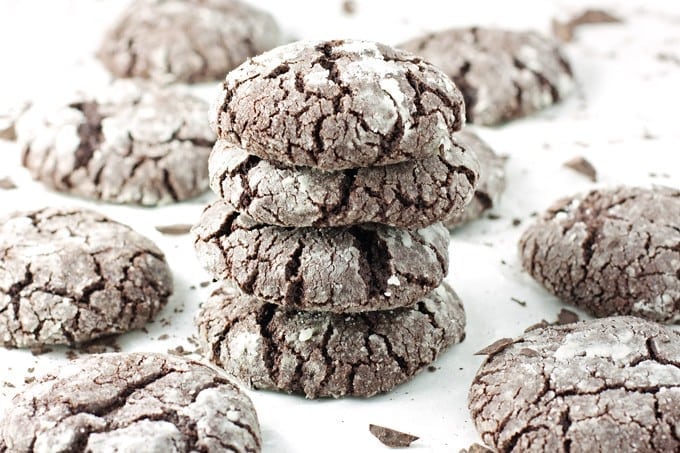 Tap any photo to Pin
Chocolate makes life better. So do cookies.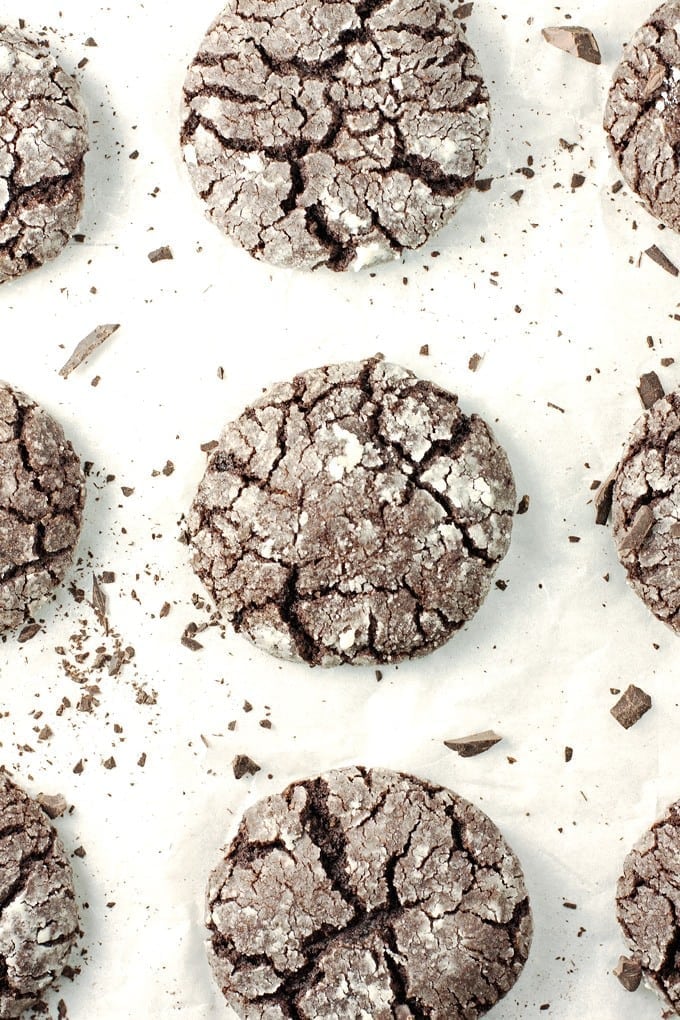 In my (extensive) experience, chocolate crinkle cookies are often too sweet, and lack a rich chocolate flavor. To avoid this sad lack of chocolate, I packed these chocolate crinkle cookies with two types of chocolate and added just the right touch of sweetness. The result is a dark, rich, fudgy flavor.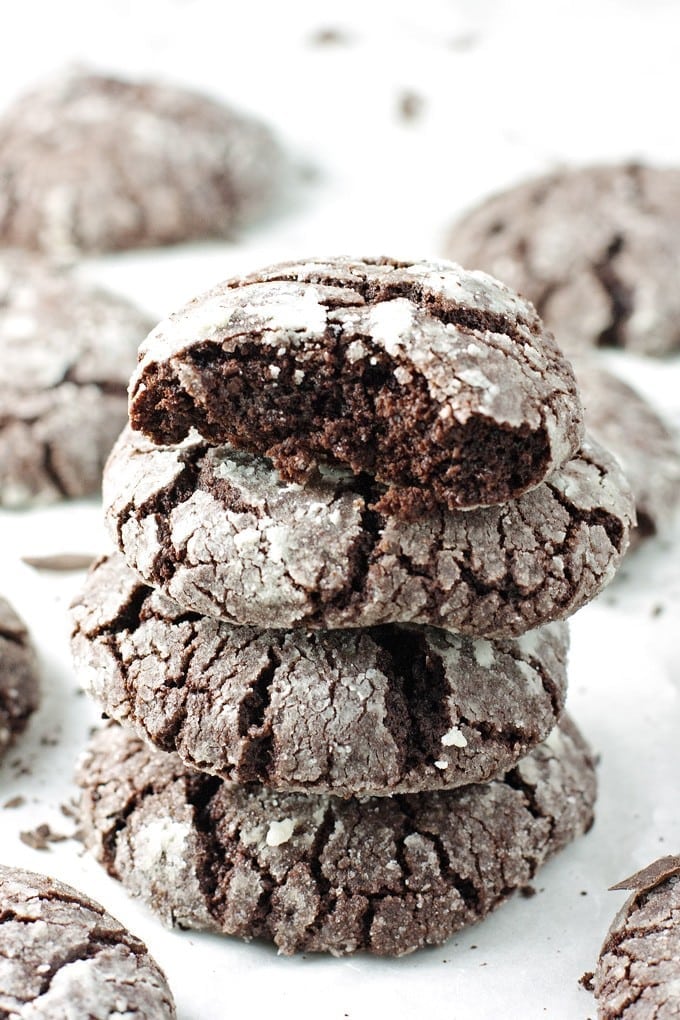 An extra egg adds extra chew, which means these delicious delectables are cookie-shaped brownies. The younger version of me would make brownies just to eat the batter. The current version of me sometimes does this too.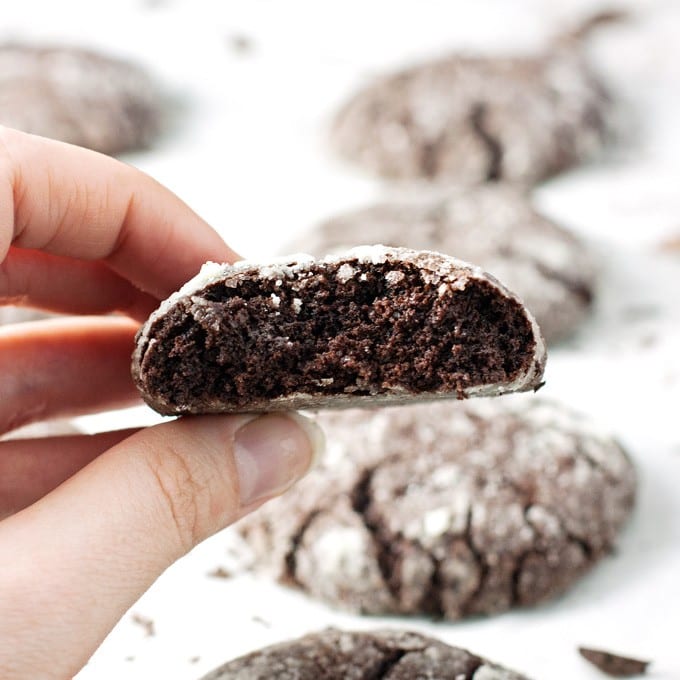 The secret to chocolate crinkle cookies, like these, are the crinkles. And they can be tricky to get right. To make sure the powdered sugar stays white, and does not melt into the cookies I created two protective barriers. Parchment paper is the first line of defense. The paper diffuses the direct heat from the cookie sheet. The second is a granulated sugar layer, placed between the cookie dough and the powder sugar. This sugar-shield protects the delicate powdered sugar from absorbing into the baking cookie. The result is a bright white coating, like a light dusting of snow.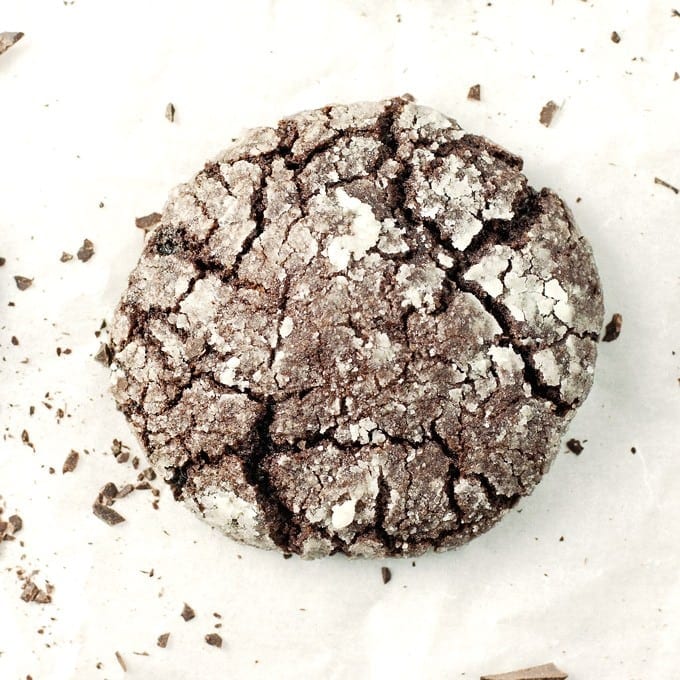 These simple, chocolate-ly crinkle cookies are perfect for the holidays or any-and-all days. For a Christmas version, try adding a teaspoon of peppermint extract with the vanilla extract – yummy 🙂
---
Chocolate Crinkle Cookies
Chocolate Crinkle Cookies – Rich fudgy chocolate cookies coated with a light dusting of powdered sugar
Ingredients
1/2

cup

115g unsalted butter,

1

cup

180 g semi-sweet chocolate chips

1

cup

200g packed, light or dark brown sugar

1

cup

120g all-purpose flour

1/2

cup

+ 2 Tablespoons

50g unsweetened cocoa powder

1

teaspoon

vanilla extract

1/2

cup

50 g granulated sugar, for rolling

1/2

cup

60 g confectioners' sugar, for rolling
Instructions
Melt the butter and semi-sweet chocolate on low heat on the stove or in the microwave on 50% power, stirring often. Stir in the brown sugar and set aside to cool.

In a large bowl, whisk together flour, cocoa powder, baking powder, baking soda, and salt.

Once butter-chocolate-sugar mixture is cool, whisk in vanilla and eggs, one egg at a time.

Pour wet ingredients over dry and gently fold together.

Let dough sit in the refrigerator until it's not too sticky to work with, about 10-15 minutes.

While dough sits, preheat oven to 325 degrees F.

Form 2 tablespoons of dough into a ball. Roll ball in granulated sugar to coat, then roll in powdered sugar to coat again.

Line a cookie sheet with two layers of parchment paper or a silicon baking mat. Arrange dough balls at least 3-4 inches apart. Bake for 10-12 minutes, until almost set. Let cool completely on cookie sheet. Enjoy!
---
SaveSave
---
---