Print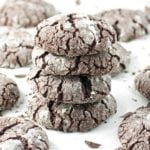 Chocolate Crinkle Cookies
Chocolate Crinkle Cookies – Rich fudgy chocolate cookies coated with a light dusting of powdered sugar
1/2

cup

115g unsalted butter,

1

cup

180 g semi-sweet chocolate chips

1

cup

200g packed, light or dark brown sugar

1

cup

120g all-purpose flour

1/2

cup

+ 2 Tablespoons

50g unsweetened cocoa powder

1

teaspoon

baking powder

¼

teaspoon

baking soda

½

teaspoon

salt

1

teaspoon

vanilla extract

2

large eggs

1/2

cup

50 g granulated sugar, for rolling

1/2

cup

60 g confectioners' sugar, for rolling
Melt the butter and semi-sweet chocolate on low heat on the stove or in the microwave on 50% power, stirring often. Stir in the brown sugar and set aside to cool.

In a large bowl, whisk together flour, cocoa powder, baking powder, baking soda, and salt.

Once butter-chocolate-sugar mixture is cool, whisk in vanilla and eggs, one egg at a time.

Pour wet ingredients over dry and gently fold together.

Let dough sit in the refrigerator until it's not too sticky to work with, about 10-15 minutes.

While dough sits, preheat oven to 325 degrees F.

Form 2 tablespoons of dough into a ball. Roll ball in granulated sugar to coat, then roll in powdered sugar to coat again.

Line a cookie sheet with two layers of parchment paper or a silicon baking mat. Arrange dough balls at least 3-4 inches apart. Bake for 10-12 minutes, until almost set. Let cool completely on cookie sheet. Enjoy!