How to build traffic for your food blog – interfacing with local businesses
November 12, 2013
No Comments
Hey everyone! Chris here again with another update on the inner workings at 2Teaspoons.
Karen and I have been excitedly watching the traffic to 2Teaspoons over the past month (at this point, there are definitely more people than just our Moms reading!) and we had a pretty cool experience that added a big jump to our traffic. And we wanted to share it with you all!
Try interfacing with local businesses. Last October, we had been craving Apple pie for days. What's the best way to handle this situation? Go apple picking at our local apple orchard, Easy Pickin's Orchard! We had such a great time that Karen wrote a fun post about picking apples. We sent an email to the Orchard to let them know we had featured them, and they were way more excited than we had expected. Here is part of their response:
"Karen, YES, post and share and tag every which way ! Your photos and your
write-up are WONDERFUL — we can't possibly thank you enough. I just
"LIKED" your 2-teaspoons FB page from our Easy Pickin's page, and if you
do some posting / linking, I'll pick it up & share & comment on it.
Also going to browse your blog for recipes that use stuff we grow
(starting with that squash soup !), and share / comment on those."
Karen was literally jumping up and down (I'm serious) about how much they loved her photos and her post.
They reposted every photo on their Facebook page with a link back to our site, and even linked to some of our recipes that could be made with ingredients from their farm. Here's what their Facebook page looked like the next day:
Pretty hard to miss us right? That Mutsu photo is ours too! Their promotion of us on Facebook got us over a plateau in likes on our own Facebook page, adding a number of new followers, and increased traffic to our blog from Facebook by a couple of hundred hits. Check out the increase in Facebook traffic we got!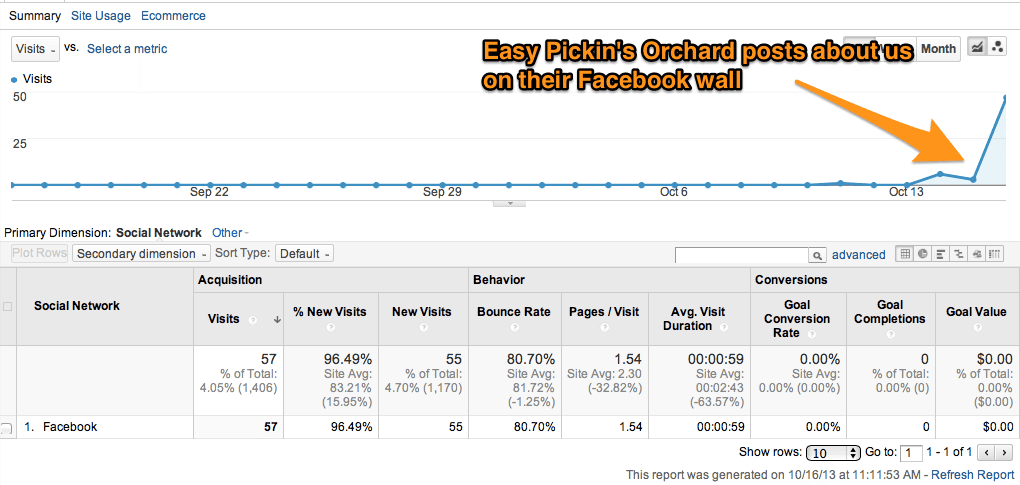 Small locally owned businesses are fantastic. Karen and I love working with small, locally owned businesses. They love what they do and you often get to chat directly with the owners. It's so amazing talking with owners that are working on something they love, and really care about the quality of their product and the experience of their customers. And they are impressively knowledgeable! Easy Pickin's identified every apple in the photos on our facebook page!
Karen and I are big fans of supporting local business and featuring these places on a blog is a great way to help them out. And they might even drive a few visitors to your blog 🙂  Shopping at a small, local business is really a unique experience, and I recommend everyone try it out!
Do you have a little coffee shop that you love? I bet they have delicious looking coffee beans and tasty pastries! Or maybe you could photo a sunny farmer's market on Saturday morning. Feel free to share your experiences in the comments — Karen and I are definitely planning to keep our eyes out for other local food-centered places!
---
---