Baked Mac And Cheese
October 11, 2014
12 Comments
Homemade, baked mac and cheese is 100% worth the effort. And it's not a lot of effort.
I didn't realize how much better the homemade, baked mac and cheese was until the first time I set out to make it. Ever since, I've been astounded and delighted with just how surprisingly easy and delicious every batch is.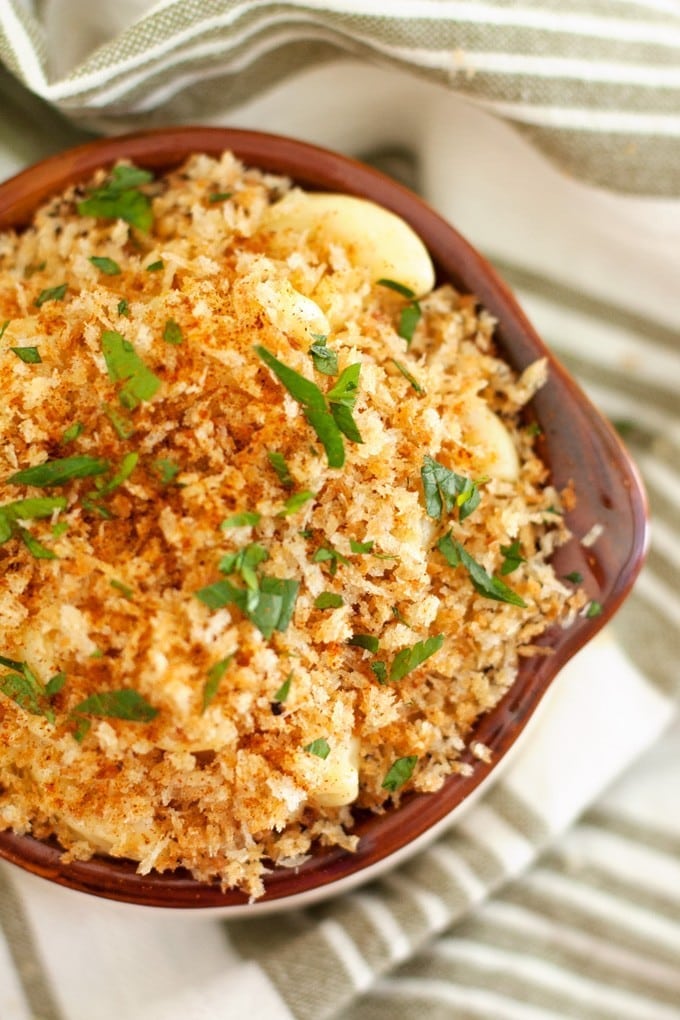 Picture the texture with me for moment. Soft pasta covered in a warm, creamy cheese sauce. And topped with a layer of crunchy, buttery breadcrumbs.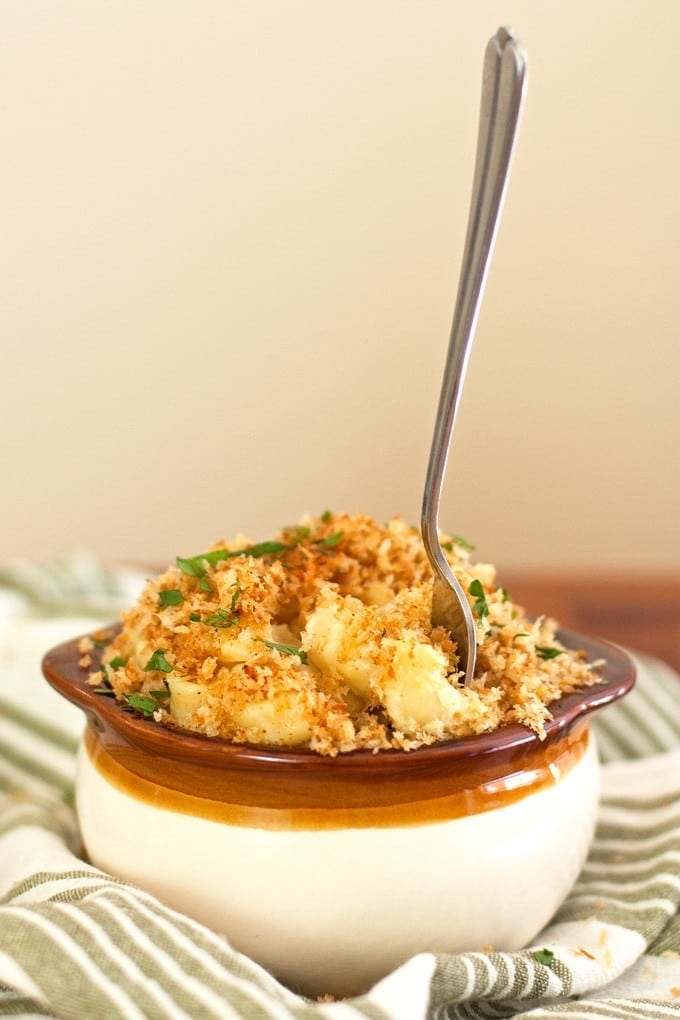 And the flavor! I added nutmeg, mustard, and cayenne pepper. Nutmeg is a great, versatile spice. I often use it in cream sauces to make them richer. The mustard and cayenne pepper add a little bit of spice to cut through the rich, creamy sauce, while not actually making the mac and cheese taste mustardy or spicy. It just tastes cheesier somehow. Trust me, you'll just have to try it.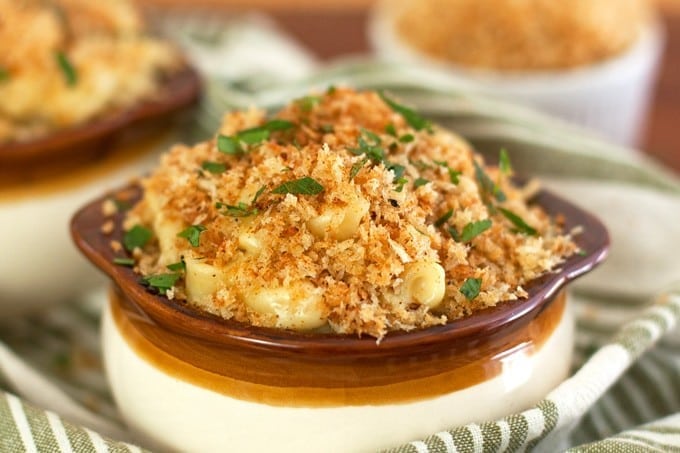 The hardest part is stirring the milk and cream into the sauce. And I think we can all handle stirring, right? When you get to the step about stirring, remember you're making sure the milk stays mixed in with the rest of the sauce. Just keep stirring, you're doing great!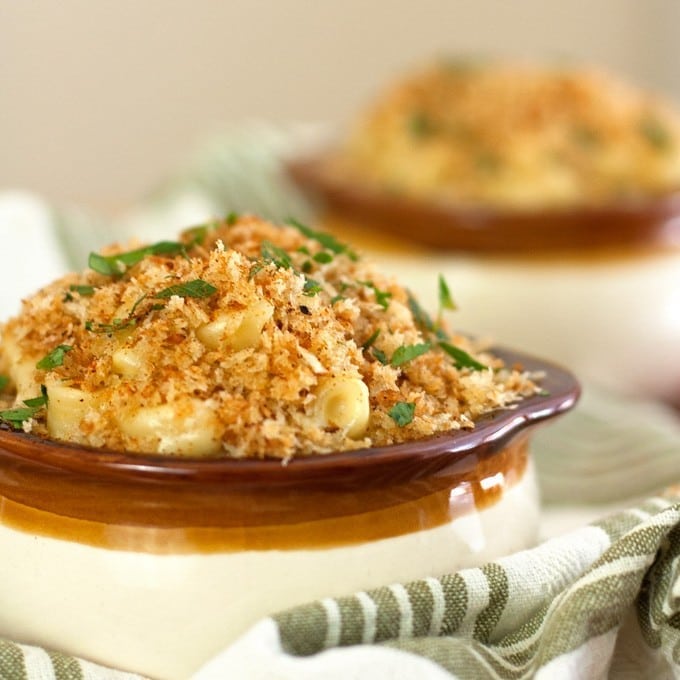 I love cheddar cheese. Especially when you get the aged kinds that have those hard little crystal explosions of flavor in them. Mmmmm. So I just had to include cheddar (although not the aged kind) in the recipe. But cheddar is actually not a great melting cheese (the oils in it can easily separate and make it hard to produce that rich, creamy, melted cheese texture), so I decided to use cheddar for one half of the cheese, and a great melting cheese for the other. Melting cheeses that I love include mozzarella, (I always say mozzarella with an Italian accent. It's a problem I know), gruyere (which is a Swiss cheese, and I really don't know how to do a Swiss accent), and provolone (just as delicious, but not as much fun to say as mozzarella!). Using only cheddar cheese will work too, I've done it plenty of times, but the other cheeses add extra layers of creaminess! Have fun with it, try any of your favorite cheeses, and enjoy 🙂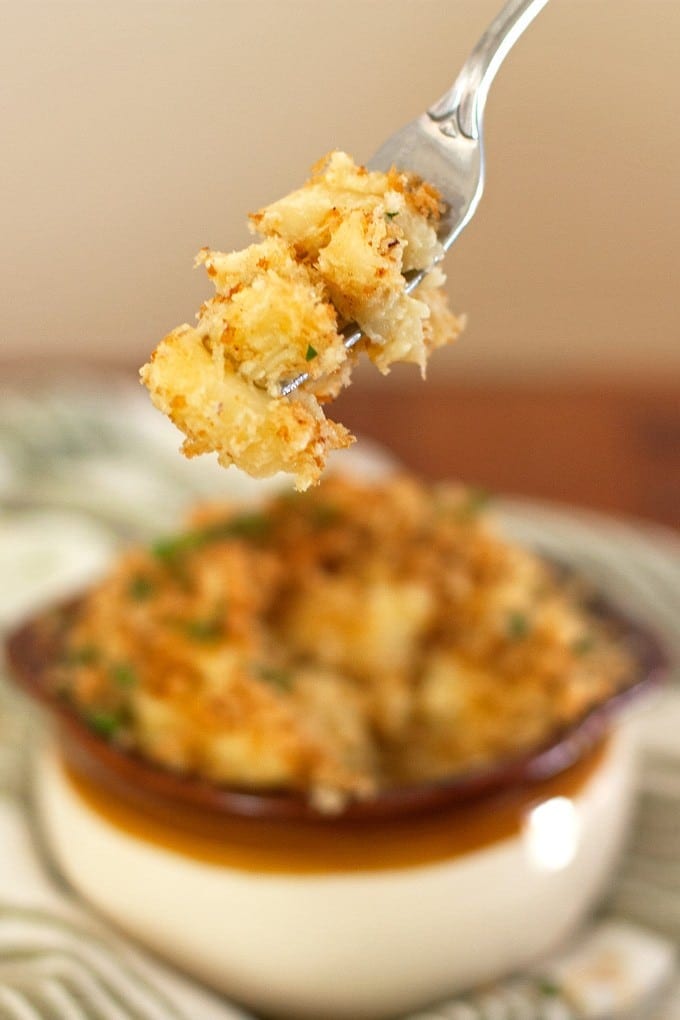 ---
Super creamy mac and cheese topped with buttery breadcrumbs and baked to perfection. The ultimate comfort food!
Ingredients
Mac and Cheese
12

ounces

by weight* of shredded cheese

I used half cheddar, half gruyere

2

tablespoons

brown mustard

½

teaspoon

cayenne pepper
Topping
1

cup

of panko breadcrumbs

Optional topping: parsley and paprika
Instructions
Boil a large pot of water on high heat. Add pasta and cook until al dente, about 8 minutes. Set aside.

Melt butter over medium heat. Sauté garlic until fragrant, about 1 minute. Whisk in flour. Gradually pour half and half, then milk in, whisking constantly. Continue to whisk constantly until sauce thickens, about 10-12 minutes. Add mustard, cayenne pepper, nutmeg and salt. Gradually whisk in cheese until completely melted. Gradually stir in pasta and then set aside.

Preheat oven to 350 degrees F.

In a large skillet melt butter over medium heat. Stir in breadcrumbs and toast, stirring constantly until golden brown, about 5-10 minutes. Remove from heat and add salt and pepper to taste.

Divide pasta evenly into 2-4 crocks. Sprinkle evenly and generously with breadcrumbs. Arrange on a cookies sheet and bake until cheese sauce is piping hot. Let sit for 5 minutes, sprinkle with parsley and paprika, and enjoy!
Recipe Notes
*12 ounces of cheese is about 3 cups of shredded cheese
---
---
---