Lemon Bars
August 1, 2015
4 Comments
A cool, refreshing, citrus lemon center on a light, buttery crust – Lemon Bars will satisfy any dessert craving.
Tap any photo to Pin
It's scorching hot in DC.
Normally, on a day as hot as today, I would enjoy a cool vanillla ice cream, but sometimes, I just want something sweet and baked.
These lemon bars have a cool, refreshing, citrus center on a light and buttery crust. They are a great baked good for the dog days of summer.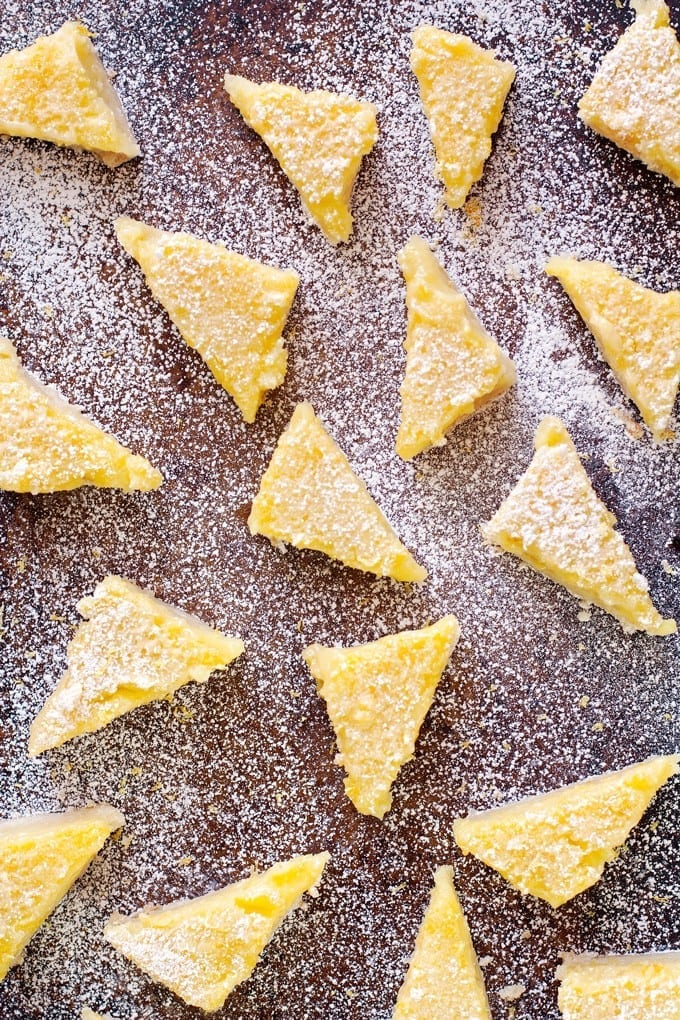 On a fun note, I bonded with Chris' dad over these lemon bars. His dad is the only one other one in the family who loves citrus desserts. I made these lemon bars for him a couple years ago. We both basked in their refreshing citrus glory. It was epic.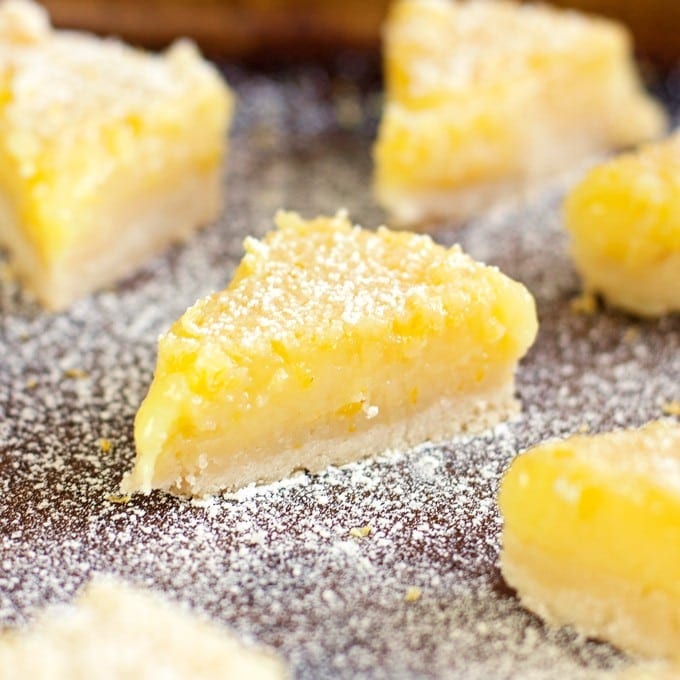 A couple of things you should know:
I think the lemon zest adds a lot of flavor to the bars, so if you have lemons around don't be shy about using them. If you only have lemon juice, don't worry, the bars will still be great!
Zesting the lemons is easiest when they are hard, so zest them soon after you take them out of the fridge.
After you zest the lemons you'll want to soften them before juicing them. I put the lemons on the counter and push down on them with the heel of my hand, getting my weight into it a little. While pressing down, I roll them around to get them ready for juicing.
The bars are pretty lemony. In comparison to a typical lemon bar recipe, I halved the crust recipe, added a bit more lemon, and reduced the sugar. (Does that make them healthy lemon bars? Yes. We'll go with yes. I'm sure you agree.)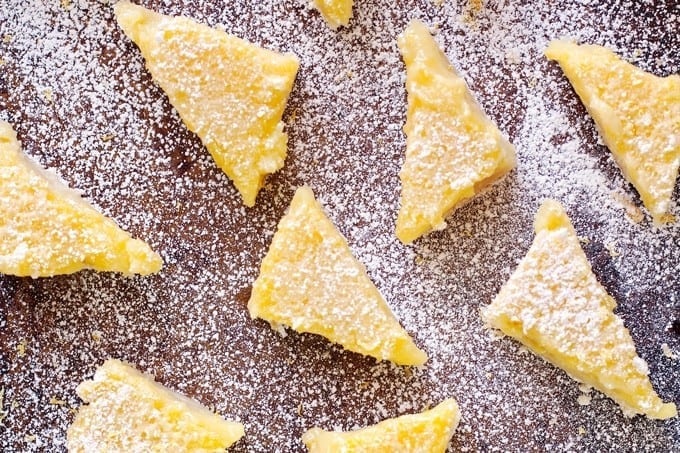 ---
A cool, refreshing, citrus lemon center on a light, buttery crust.
Ingredients
Crust
½

cup

unsalted butter

softened
Filling
The juice and zest of 4 lemons
Topping
Powdered sugar for dusting
Instructions
Preheat oven to 350 degrees F.

Prepare crust: In a medium bowl, stir together flour, sugar, and salt. Gentle combine with softened butter (I used my hands for this step). Press into the bottom of a 9x9 inch pan. Bake until crust is firm and golden brown, about 20-25 minutes. Set aside.

In another medium bowl, whisk together the sugar and flour for the filling. Whisk eggs in one egg at a time. Whisk in lemon juice and zest. Pour mixture over baked crust.

Bake for 30 minutes, bars will firm up while they cool. Let cool completely. Dust with powdered sugar and serve.
---

SaveSaveSaveSave
---
---