Cheesy Cornbread Muffins
January 26, 2014
1 Comment
To help thaw us from our trip to Fargo last week I baked yummy cornbread muffins 🙂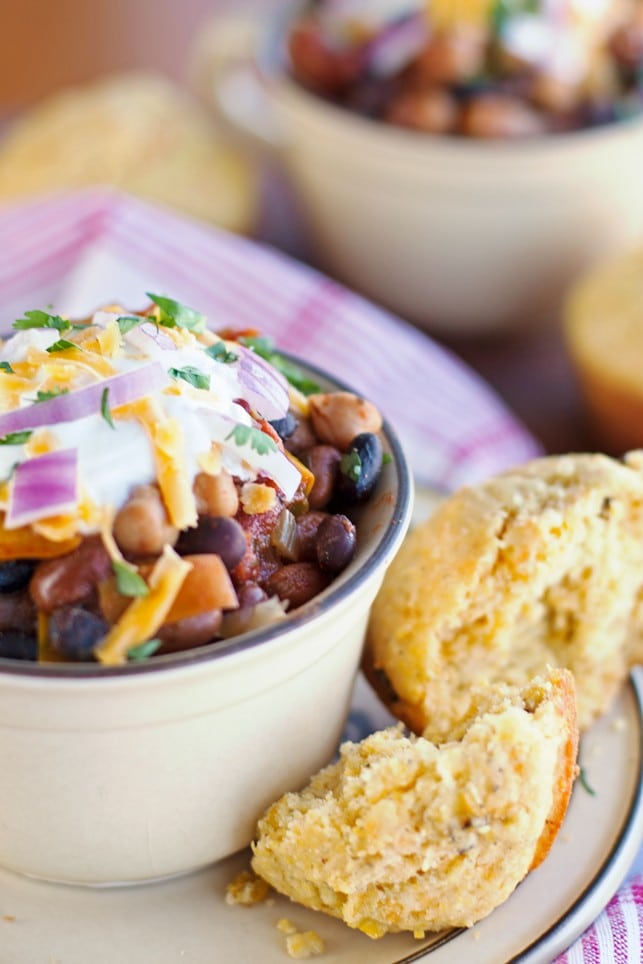 They came out moist, cornmealy, slightly cheesy, and super delicious! Perfect to warm my tummy and lift my spirit! Mmmmm!!!!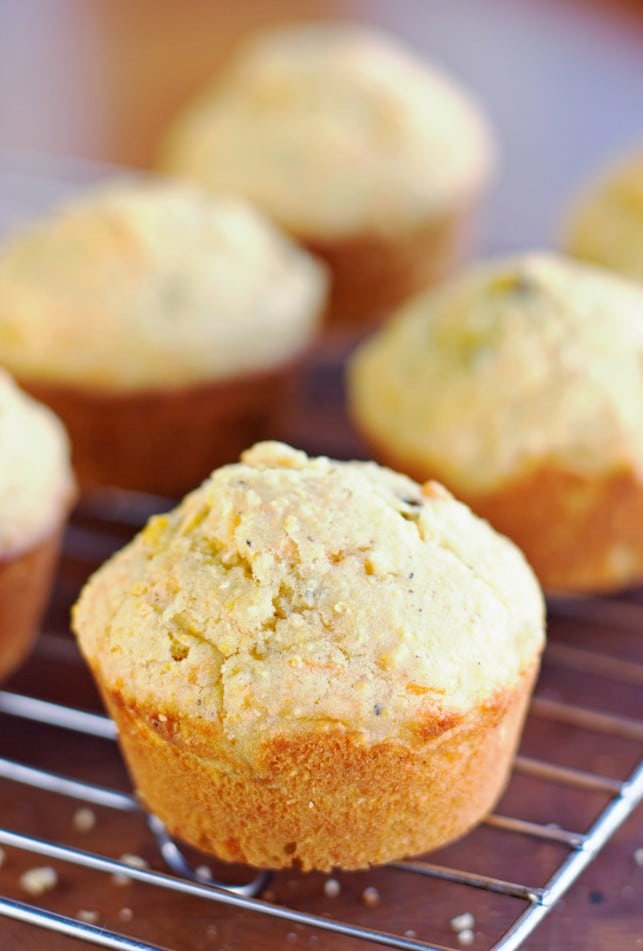 I love the slightly gritty texture of the cornmeal in these muffins. The texture can be adjusted by changing the cornmeal to flour ratio, keeping the total amount the same. I used 1 ½ cups cornmeal and 1 cup flour for 2 1/2 cups total. If you like your corn muffins a little more on the smoother side and a little less on the cornmealy side you can half the cornmeal to ¾ cup then use 1 ¾ cups of flour to keep the total 2 ½ cups the same. It's super simple and totally personalizable!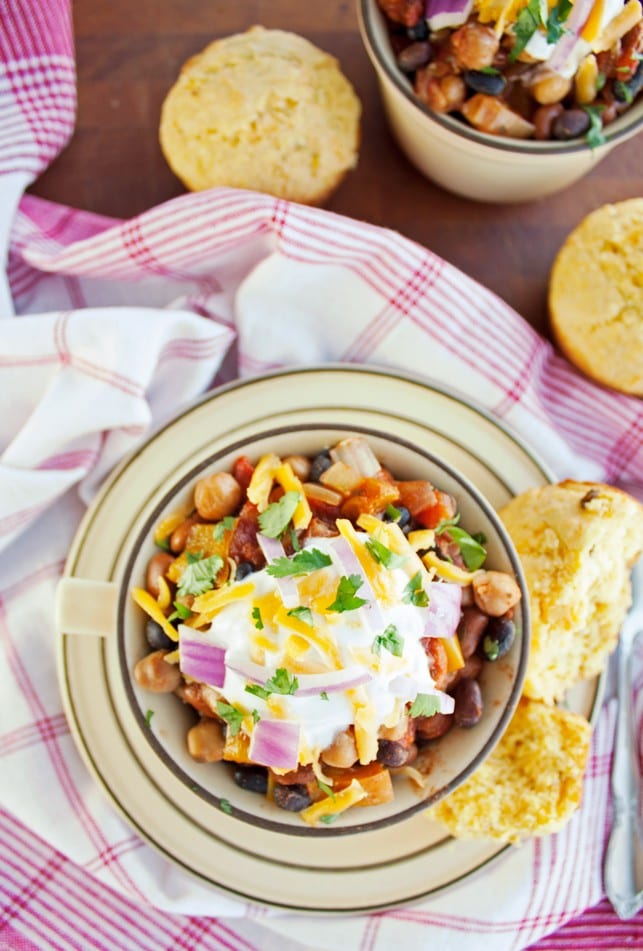 To up the wow factor of I packed the muffins with corn pieces and cheese! It boosted the flavor and made the texture even more interesting … like adding nuts to muffins :-).  You can definitely use any type of fresh, frozen, or canned corn you have on hand, just make sure to drain all the liquid before adding it to the batter. I used frozen roasted corn from Trader Joe's and just microwaved it to room temperature before adding it to the batter.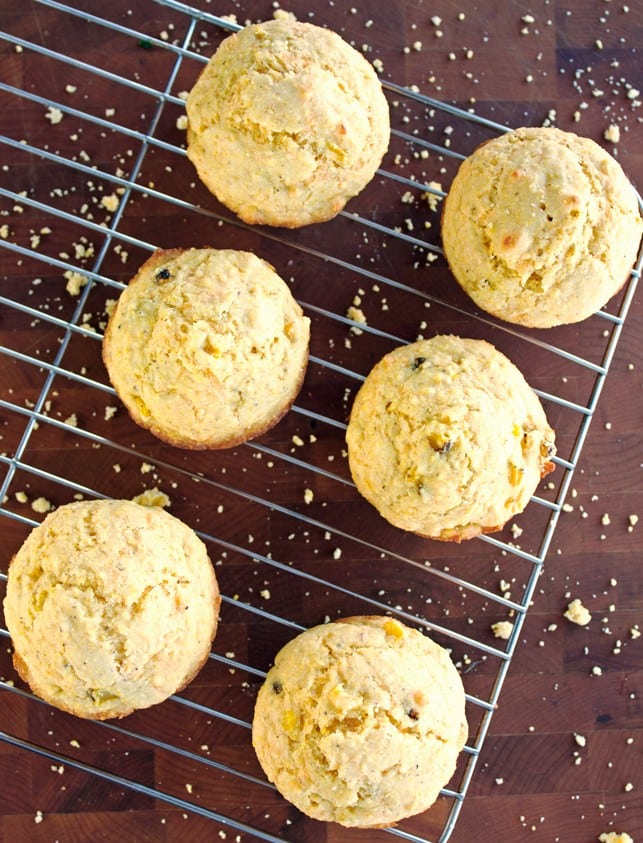 Try crumbling these muffins up and stirring them into the chili for a thick, sweet, tummy warming texture! They are also fantastic served on the side or on their own. Just smother them in butter and top with a drizzle of honey! Mmmmmm!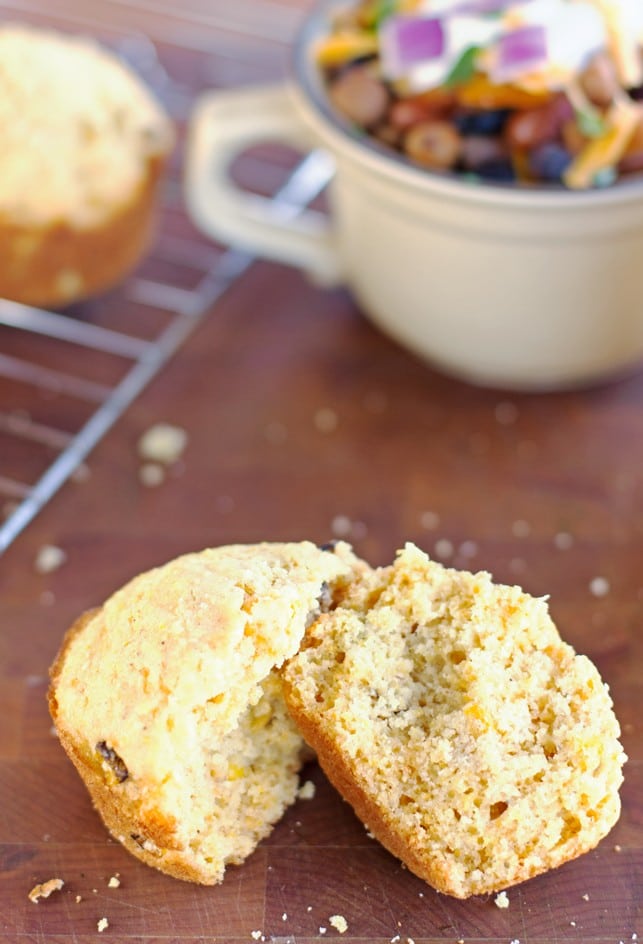 ---
Moist, cheesy, cornbread muffins. Perfect with chili, on their own, smothered with butter, or drizzled with honey 🙂
Ingredients
2 ½

teaspoons

baking powder

¼

cup

butter

melted and cooled

1

cup

corn at room temperature

fresh, frozen, or canned – drain liquid

1

cup

of shredded cheese

cheddar, monterey jack, colby jack, etc
Instructions
Preheat oven to 400 degrees. Prepare muffin tins by greasing or lining with cupcake liners.

In a large bowl combine the dry ingredients: cornmeal, flour, sugar, baking powder, baking soda, and salt. Stir until fully mixed.

In a medium bowl whisk together wet ingredients: butter, egg, and buttermilk.

Pour wet ingredients over dry ingredients and stir gently until just combined. Batter will be lumpy. Fold in corn and cheese. Divide batter equally between the 12 muffin tins.

Bake until tops are golden brown and toothpick inserted in the center comes out clean, about 14-16 minutes. Let cook in pan for 5 minutes. Remove from pan and let cool completely on a wire rack.

Smother in butter, drizzle with honey, crumble in chili, and smile 🙂
Recipe Notes
*I made my own buttermilk by combining 1 cup + 3 tablespoons milk with 1 tablespoon white vinegar, stirring well, and letting it sit on the counter for 5 minutes.
---
---
---