Print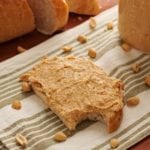 Honey Roasted Peanut Butter
Super creamy, super easy homemade peanut butter sweetened with honey and finished off with a touch of salt.
1

lb

unsalted

roasted peanuts

Salt to taste

I use about ½ teaspoon

Honey to taste

I use about 1 tablespoon
Place peanuts in a food processor or a powerful blender.

Turn blender on low and let peanuts grind until they form soft peanut butter, scraping down sides as needed, about 3-5 minutes. During this process the peanuts will first turn gritty then start to form a soft peanut butter as they release their oils. Add salt and honey to taste and stir in by hand or by turning blender back on briefly.

Remove peanut butter from blender and either enjoy immediately or store in an air-tight container in the frig.