Print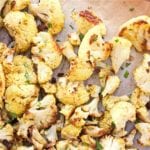 Roasted Curry Cauliflower
The curry gives the cauliflower a spicy kick that goes perfectly with the natural sweetness and deep flavor of roasting!
Preheat oven to 425 degrees

Chop cauliflower into florets. Mix oil with spices. Pour spices over cauliflower. Toss with hands to coat, rubbing oil into cauliflower pieces.

Arrange cauliflower in a single layer on a baking sheet. Roast until tender and slightly browned, about 30-40 minutes. Serve immediately.