Print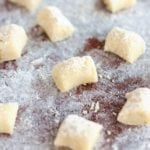 Homemade Potato Gnocchi
Delicate, dreamy, delicious homemade potato gnocchi
2

lbs

russet potatoes

~2-3 large potatoes

1

cup

flour

divided

1

egg

salt and pepper
Preheat oven to 425 degrees.

Fork skin of potatoes and bake until soft, about 45 minutes.

When potatoes are done baking slice open and remove insides. Using a fork or pastry cutter break potatoes up into small pieces and spread out in a thin layer on a cutting board. Let cool for 15 minutes.

Sprinkle cooled potatoes with ¾ cup flour, egg, salt, and pepper. Using a pastry cutter or fork mash into potatoes until egg is distributed throughout the potatoes (the egg yolk will give the potatoes a yellow tint). Gently fold dough with a spatula or pastry scraper until it is crumbly. Gently knead the dough adding flour 1 tablespoon at a time until it is moist but not sticky.

Divide dough into 8 pieces and roll out into long rope shaped pieces about the width of your thumb. Cut dough ropes into ¾ inch pieces and dust with a little flour. Arrange in a single layer on a cookie sheet and place in the refrigerator until ready to cook, at least 30 minutes.