Print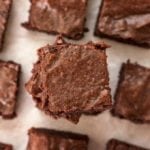 Cocoa Brownies
Rich, chewy, decadent fudge brownies made with cocoa powder!
10

tablespoons

butter

1¼

cup

sugar

¾

cup

unsweetened cocoa powder

1

teaspoon

vanilla

2

eggs

1

cup

of flour

½

teaspoon

salt
Preheat oven to 350 degrees. Line an 8x8 baking sheet with parchment paper.

Combine butter, sugar, and cocoa powder in a large microwave safe bowl. Melt in microwave on 50% power for about 3 minutes, stirring every 60 seconds. Mixture should be hot to touch, but not scorching. Let cool slightly until warm, about 2 minutes.

Stir in vanilla then stir in 1 egg at a time until completely incorporated. Add flour and salt, and stir until you can't see any flour. Stir vigorously for 1 additional minute. Spread evenly in parchment paper lined 8x8 baking pan.

Bake until a toothpick comes out almost clean, about 25-30 minutes. Let cool completely on a wire rack. Lift up parchment paper and cut into delicious brownie pieces. Enjoy!