Print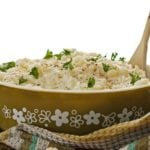 Cauliflower Mashed Potatoes
All the flavor and texture of creamy mashed potatoes - without all the calories
Chop cauliflower into florets and steam until soft, about 15 minutes

Combine cauliflower, 1 cup yogurt, and olive oil, and mash together (I used an electric mixer on low with a whisk attachment). Add in enough of the remaining yogurt to reach the desired consistency.

Salt and pepper to taste. Add a drizzle of olive oil if desired and serve immediately.