Print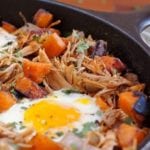 Pulled Pork Sweet Potato Hash with Eggs
Pulled pork and sweet potato hash topped with cilantro and hot sauce - a fun, fall, foodie version of classic corned beef hash
Peel and chop sweet potatoes into bite-size pieces (about ½ inch cubes).

Heat skillet on medium-low with butter and oil. Cook sweet potatoes in skillet until golden brown, stirring occasionally, about 12-14 minutes. Add red onion, sprinkle with salt, and continue to cook until the onion is soft, about 5 minutes. Salt and pepper to taste.

Turn burner on low. Stir in pulled pork and heat for a few minutes.

Make small pockets in the pulled pork sweet potato hash to fit the eggs in. Carefully crack an egg into each pocket. Cover and let cook until eggs are set. Just before serving, sprinkle with fresh cilantro, salt and pepper.
NOTE: Eggs can also be made separately and served on top of hash