Print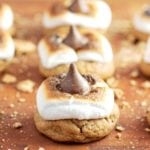 S'more Cookies
No campfire? No problem! Make your s'mores inside!
S'more Toppings
14-16

marshmallows

one per cookie

14-16

chocolate kisses

one per cookie
Cream the butter and sugars together on medium speed using a mixer. Add the cookie butter, then egg, then vanilla, scraping down the sides as necessary.

In a separate bowl combine the flour, baking soda, spices, and salt.

Slowly add flour mixture into butter-sugar mixture, being careful not to over mix the dough. Once dough is fully combined use a large spoon to stir in graham cracker crumbs. Dough will be very soft, refrigerate for at least 60 minutes.

Preheat oven to 350 degrees.

Roll cookie dough into balls (2 tablespoons for small cookies, ¼ cup for large cookies) Arrange dough on an ungreased cookie sheet and bake until cookies just start to brown, about 8-10 minutes for small cookies or 10-15 minutes for large cookies. Cool for 5 minutes on cookie sheet, transfer to wire rack and let cool completely.

Once cookies are cool (and preferably when you are ready to eat them), place one marshmallow on each cookie and place under the broiler until marshmallow is toasted, about 1 minute. Watch the cookies carefully, one of my marshmallows caught on fire during my first batch. Remove cookies from broiler, place Hershey kiss on each, and serve.
*Peanut butter can be substituted for cookie butter for peanut-infused s'more cookies.
**Cookies are best served immediately after toasting marshmallows, but will keep for a few days in an airtight container on the counter.