Print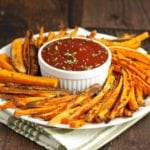 Healthy Baked Sweet Potato Fries
Baked Sweet Potato Fries – With these vitamin-packed, baked fries there is no need to sacrifice flavor for healthiness!
1-2

lb

sweet potatoes

1-2

tablespoon

olive oil

salt and pepper to taste
Preheat oven to 425 degrees F.

Peel (optional if you like fries with potato skin on them) and cut sweet potatoes into even fry shaped pieces. Toss in oil, salt and pepper. Arrange in a single layer on a baking sheet.

Bake until the part touching the baking sheet is browned, about 20 minutes. Then flip fries and bake until crisp, about an additional 10 minutes (~30 minutes totally cooking time*).
*Cooking times are for medium thickness fries. Thinner fries will crisp up easier and may require less time to cook. Thicker fries will be potato-ier and may require more time to cook.