Pulled Pork Sweet Potato Hash with Eggs
December 6, 2014
19 Comments
Pulled pork sweet potato hash is one of my all-time favorite brunch recipes. It combines several of my favorite ingredients – sweet potatoes, over easy eggs, and pulled pork. I like to think of it as a foodie, fall version of corned beef hash.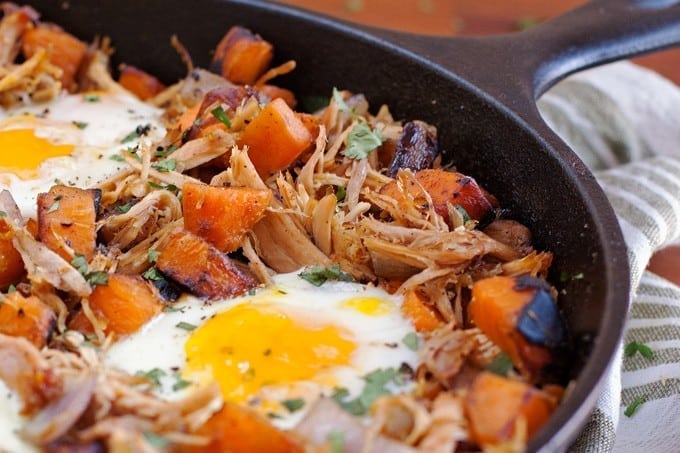 To make the pulled pork, cook a pork shoulder (or other cut) in a crockpot the day before. I usually put the shoulder in the crockpot with a ½ cup of liquid (water, wine, or beer work well) and let it cook on low for about 6-8 hours. Shred with fork.
Once you have the pulled pork, the hash is quick and easy. Start by cooking diced, seasoned sweet potatoes in a cast iron skillet on medium-low, stirring occasionally. While the potatoes are cooking, chop the red onion.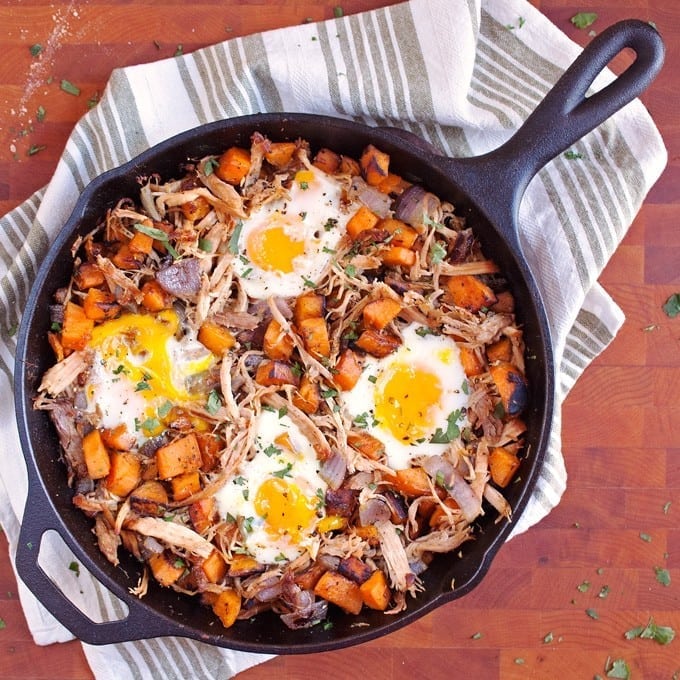 I just discovered this moment that dicing means to cut into the size of a dice. Seriously? That makes it so much easier to remember!
Once the potatoes are golden brown, add the onion, a little more salt, and continue to cook until the onion is soft. Stir in the pulled pork.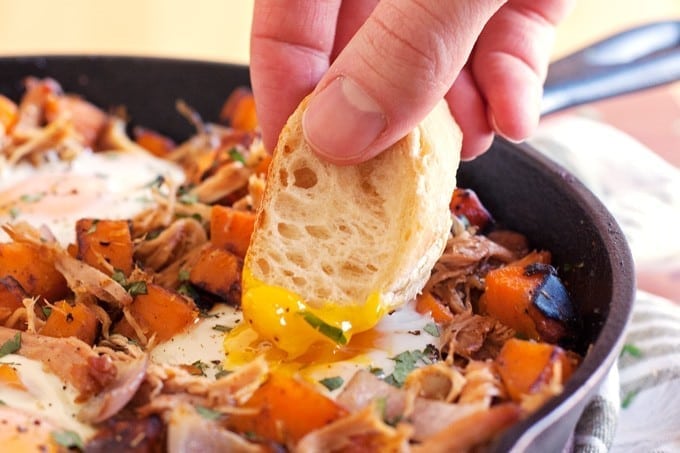 Crack eggs into small pockets in the hash. Cover and cook on low until eggs set. You can also cook your eggs separately however you like or, if you're feeling extra adventurous, put the whole skillet under the broiler until the eggs are done. Add a few green herbs (I used cilantro), sprinkle with salt and pepper. Brunch is served!
One final note. Hot sauce (or bbq sauce) is amazing on this dish 🙂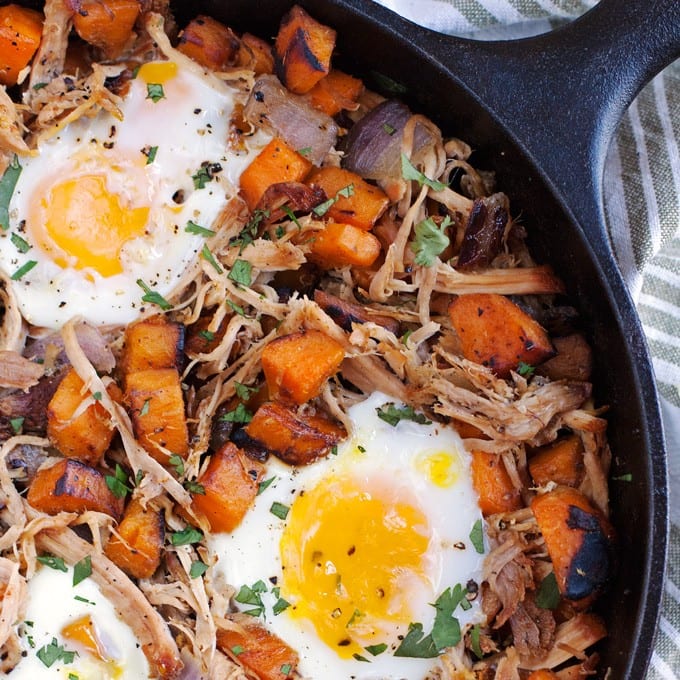 ---
Pulled Pork Sweet Potato Hash with Eggs
Pulled pork and sweet potato hash topped with cilantro and hot sauce - a fun, fall, foodie version of classic corned beef hash
Ingredients
1 ½

pounds

of sweet potatoes

8

ounces

cooked pulled pork

about 2 cups

optional: hot sauce or barbecue sauce
Instructions
Peel and chop sweet potatoes into bite-size pieces (about ½ inch cubes).

Heat skillet on medium-low with butter and oil. Cook sweet potatoes in skillet until golden brown, stirring occasionally, about 12-14 minutes. Add red onion, sprinkle with salt, and continue to cook until the onion is soft, about 5 minutes. Salt and pepper to taste.

Turn burner on low. Stir in pulled pork and heat for a few minutes.

Make small pockets in the pulled pork sweet potato hash to fit the eggs in. Carefully crack an egg into each pocket. Cover and let cook until eggs are set. Just before serving, sprinkle with fresh cilantro, salt and pepper.
NOTE: Eggs can also be made separately and served on top of hash
---
---
---