Pear, Walnut, Blue Cheese Artisan Pizza
January 16, 2014
4 Comments
When Chris and I were farm-to-table eating and vineyard-to-glass wine tasting our way through Napa Valley the menus were just overflowing with yummy dishes I wanted to try.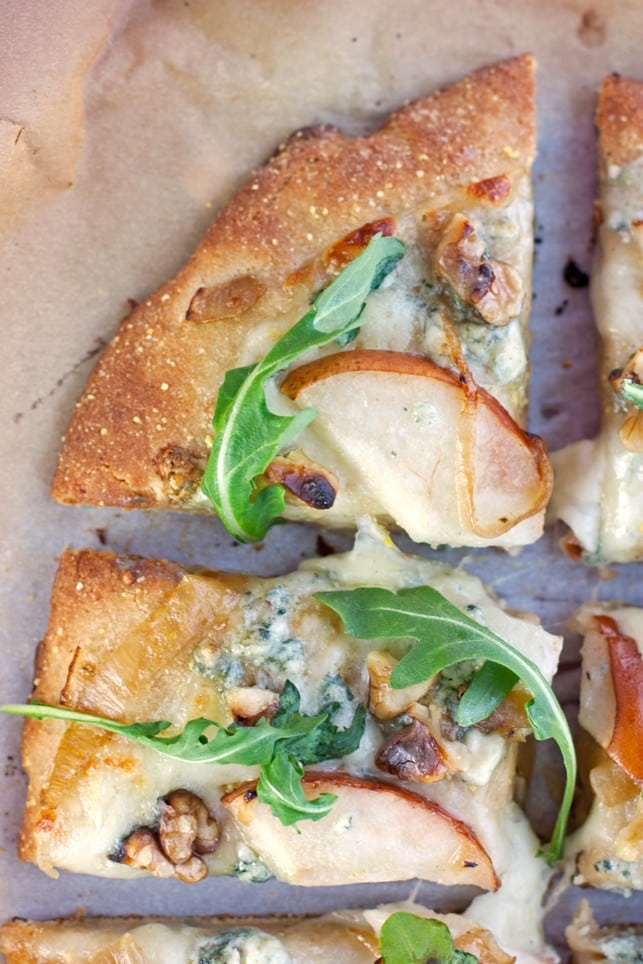 Calistoga Inn is a fun and tasty lunch spot a short 2 block walk away from our B&B. They brew their own beer and have some delicious-looking pizza combinations. It was agonizing to have pick one only one! pizza. I soothed myself by promising to make the rest at home.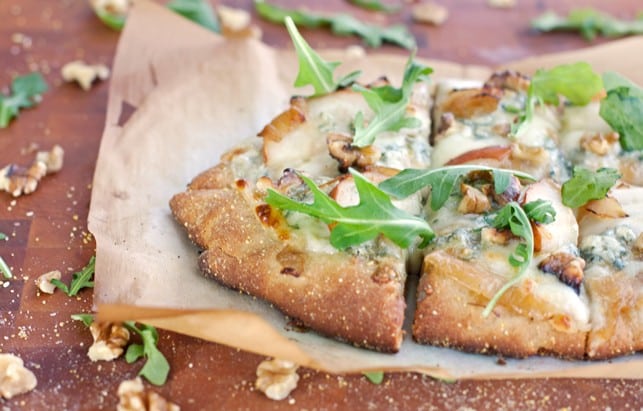 This recipe is a modified version of their Pere l'Autunno (which means autumn pear in Italian) pizza. This pizza is bursting with juicy pears and tangy blue cheese with a touch of sweet caramelized onions and peppery arugula. The toasted walnuts give the pizza a great texture, and the fresh mozzarella blends all the flavors together!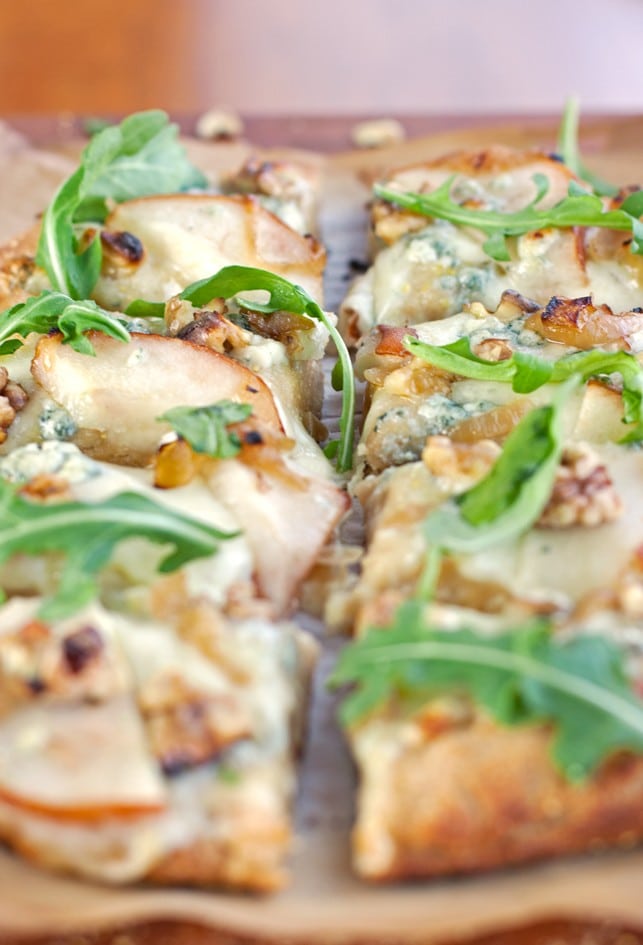 My go-to whole wheat pizza crust was a surprising complement to all the toppings, with its subtle hint of honey pairing perfectly with the pears, walnuts, and blue cheese. Just like the last yummy rendition, I divided the dough in half after the first rise to work with more manageable pieces.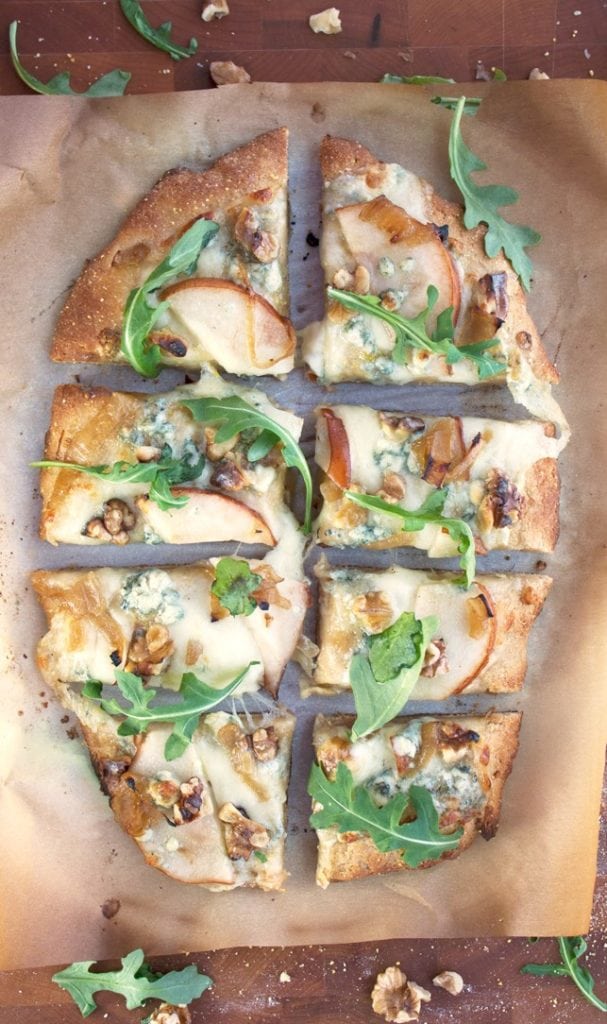 Try pairing this pizza with your favorite beer or wine. The ingredients come together like a cheese platter with creamy fresh mozzarella, tangy blue cheese, toasted walnuts, ripe pears, and a drizzle of honey! Mmmmm!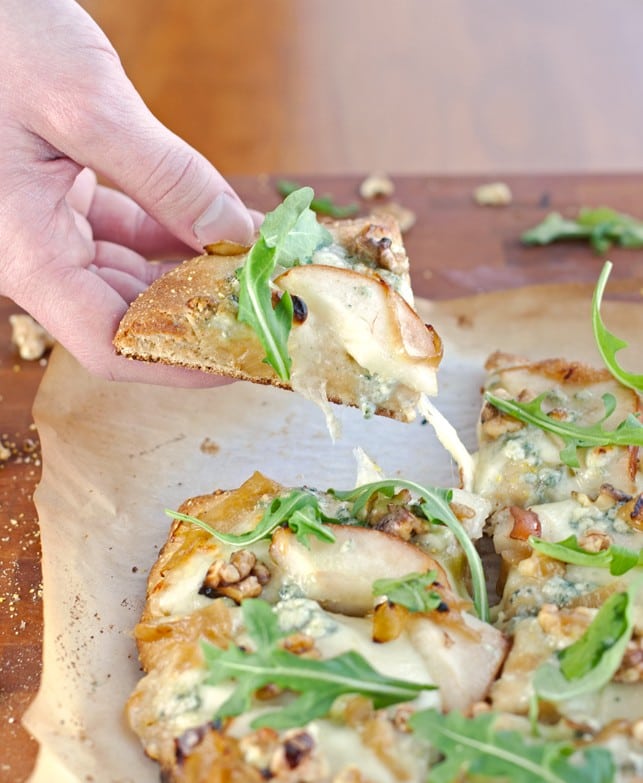 ---
Pear, Walnut, Blue Cheese Artisan Pizza
A pizza bursting with juicy pears, tangy blue cheese, toasted walnuts, sweet caramelized onions and peppery arugula.
Ingredients
1

pizza dough crust that uses about 2 cups of flour

split dough in half after the first rise*

8

ounces

fresh mozzarella cheese

thinly sliced or shredded

2

tablespoons

of olive oil for brushing crust
Instructions
Prepare pizza dough according to recipe and divide after first rise.*

Preheat oven to 350 degrees. Arrange chopped walnuts in a single layer on baking sheet. Toast in oven until slightly brown, about 5-10 minutes.

Place pizza stone or pan inside oven and raise temperature to 500 degrees for 30 minutes.

Melt butter in a skillet over medium heat. Add diced onions and cook until caramelized, stirring occasionally, about 10-15 minutes. Set aside.

Roll both pizza doughs out on a cornmeal surface. Brush with olive oil. Cover the pizza crusts in a layer of mozzarella cheese. Use all the cheese, equally distributing it over both pizzas. Top both pizzas evenly with pears, toasted walnuts, blue cheese, and caramelized onions.

Transfer pizza to pan or stone and cook until cheese melts and crust turns golden brown, about 10 minutes per pizza. I cooked the pizzas one at a time. If you want to do both together, you'll probably need to cook the pizzas a little longer. Keep on eye on them.

Let cool for 5-10 minutes, sprinkle with arugula, cut and serve!
Recipe Notes
*I recommend Naturally Ella's recipe. You'll need a total of about 2 hours to prepare the crust: 30 minutes to make the dough, 60 minutes for the first rise, and 20 minutes for the second rise.
---
---
---